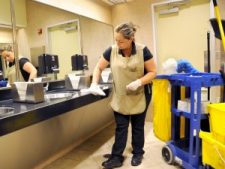 AB 1978 creates the Property Services Workers Protection Act.  Adding Part 4.2 (commencing with Section 1420) to Division 2 of the Labor Code, it requires every janitorial business within the State of California to register yearly with the Commissioner of the Division of Labor Standards Enforcement ("DLSE") and pay a yearly fee of $500.00.  "No employer may conduct any janitorial business without a valid registration."
It requires employees and employers of janitorial businesses to participate in a biennial in-person sexual violence and harassment prevention training course.  The course is to be developed by the DLSE by January 1, 2019.
Any janitorial business which does not have a current and valid registration is subject to a fine of $2,500.00.  Additional fines may be imposed including a fine of $100.00 for each calendar day that the business is unregistered with a maximum fine of $10,000.00.
Businesses (including Homeowner Associations) which contract with unregistered and unlicensed janitorial businesses are subject to fines of $2,000.00 to $25,000.00.
How will you know if the janitorial business is registered?          
The DLSE is required to maintain an online Janitorial Contractor Registry which is to be a public database of property service employers on the website of the Department of Industrial Relations ("DIR") including the name, address, registration number, and effective dates of registration of all janitorial businesses.
AB 1978 was signed into law on September 15, 2016, and becomes effective on July 1, 2018.
| | |
| --- | --- |
| | Be proactive: Verify online through the Janitorial Contractor Registry that your janitorial workers are employed by a licensed janitorial business.  If you don't, your Association may be subject to fines of $2,000.00 to $25,000.00. |
Blog post authored by TLG attorney, Bruce R. Kermot.