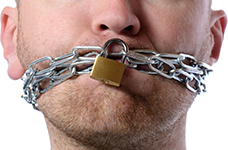 *Unpublished Opinion
The recent unpublished opinion of Chemers v. Quail Hill Community Association et al. (2018) shines some light on the oft-misunderstood California Anti-SLAPP statute and its effectiveness as a defense for actions by a homeowners association's board of directors.  The Fourth District California Court of Appeal held that certain actions by the board in a dispute with a director were not in furtherance of the right of free speech or petition as to be protected by the anti-SLAPP statute.
Plaintiff Evan Chemers ("Chemers") was a member of the board of directors for defendant Quail Hill Community Association ("Quail Hill"), a planned unit development located in Irvine, California.  A series of disagreements and escalating tension between Chemers and other members of the board resulted in the board taking affirmative steps to remove Chemers from the board permanently.  In June 2016, the board proposed a resolution to create an executive committee consisting of all board members except for Chemers, and in July 2016, the board proposed a resolution to declare Chemers' board seat vacant on the ground that he did not meet the member-residency requirement.  Chemers was not afforded an opportunity to present any evidence of residency, address the board, or have his legal counsel present when he was formally removed.
In October 2016, Chemers filed a lawsuit against the association and other directors, alleging eight causes of action including breach of governing documents, breach of fiduciary duty, negligence, declaratory relief, and various violations of the Civil Code and Corporations Code.  In response, the defendants filed an anti-SLAPP motion seeking an order striking the complaint and the eight causes of action within it.  The trial court granted the moving defendants' anti-SLAPP motion as to six of the eight causes of action.
Chemers subsequently appealed the trial court's decision, and the Court of Appeal concluded that the trial court erred by granting the anti-SLAPP motion as to the claims alleged against Quail Hill for breach of contract, violation of Civil Code section 5850 et seq., and for two counts of declaratory relief.  The Court of Appeal reasoned that none of those four causes of action arose out of protected activity – whether speech or petitioning activity – within the meaning of the anti-SLAPP statute.