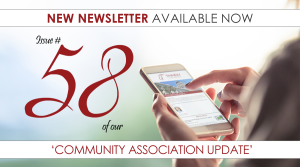 In case you missed it, Issue # 58 of our 'Community Association Update' newsletter is available now!
Topics covered in this issue include:
Paying for Increases in your HOA's Insurance Premiums
Addressing Requests for Installation of Solar Panels on Shared Roofs
What Happens When a Delinquent Homeowner Dies?
Evidence of Violations is Necessary
How to Direct Questions from Potential Homebuyers
A link to the newsletter is here.
Need to be added to our mailing list? Click here to sign up. Links to previous editions of our newsletter can be found here.