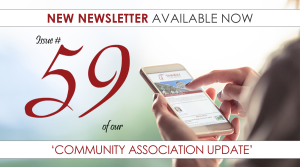 In case you missed it, Issue # 59 of our 'Community Association Update' newsletter is available now!
Topics covered in this issue include:
Email Discussions Between Board Members are not "Meetings"
Are Your HOA Volunteers Covered for Injuries?
What if Our HOA's Insurance is Canceled Due to Risk of Wildfires?
Court Steps in to Force Recalled Board to Step Down
A link to the newsletter is here.
Need to be added to our mailing list? Click here to sign up. Links to previous editions of our newsletter can be found here.