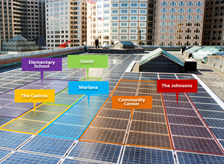 The rising cost of electricity, environmental considerations, clean energy and tax savings, utility company programs designed to help alleviate the demand on the grid, and the proliferation of affordable residential solar energy systems have made solar power more popular than ever.  Consequently, Associations are seeing a sharp rise in homeowner requests to install solar energy systems.  This presents a particularly unique set of challenges for condominium developments because of their shared roofs and other similar common area components.
Under Civil Code § 714.1, if a condo owner ("homeowner") wants to install a solar energy system ("solar panels") on a shared common area rooftop or adjacent garage or carport, Associations can no longer prohibit them.  California law broadly requires Associations to allow homeowners to install solar panels on common area roofs of the buildings in which their unit is located or on the roofs of adjacent carports or garages.  See Civ. Code §§ 714.1, 4600, and 4746.
Moreover, solar panel installations are an exception to the rule requiring 67 percent of membership approval before the Association grants use of any portion of a common area to a particular homeowner.  See Civ. Code § 4600(b)(3)(J).  This Civil Code exception is intended to make solar adoption in condos easier and streamline common area roof installations.
Therefore, any provision of an Association's governing documents that effectively prohibits or materially impedes the installation or use of solar panels is deemed void and unenforceable.  For instance, Association restrictions that raise the total cost of the solar panels system by more than $1,000 or decrease its performance by more than ten (10) percent from what was originally proposed by the applicant homeowner run afoul of the law and are deemed void.
However, this does not mean that a homeowner can install as many solar panels on the common area roof as he or she desires without consideration of neighbors in the building.  Civil Code § 4746(b) provides that when reviewing a request to install a solar energy system on a multifamily common area roof shared by more than one homeowner pursuant to §§ 714 and 714.1, an Association may impose additional reasonable provisions.
Therefore, if a homeowner wants to install solar panels onto a common rooftop, the Association can require a solar site survey to help determine the breakdown of usable space among all homeowners sharing the roof for potential solar hardware.  See Civ. Code § 4746.  Because each Association is different, it is up to the Board of each Association to decide what is a fair and reasonable equitable allocation of a common area roof.  If practical, each homeowner should get a proportion of the usable roof space that would result in an equal amount of energy output.  This way, rather than the first installer of solar panels utilizing the ideal area(s) of the shared solar roof to the disadvantage of subsequent installers, the above equal allocation approach promotes solar equitable ownership and equal opportunity to the same quantity of solar energy.
If the site survey determines that a rooftop solar system would be impractical or the allocation of shared roof space is untenable, the Association could deny installation.  See Civ. Code § 4746.
In summation, while the Association may not unreasonably restrict an owner's request and the CA statute expressly allows for such panels on common area roofs, the Association may reasonably attach a series of requirements and conditions pursuant to which the applicant homeowner must: 1) Notify the other homeowners with the shared roof of their desired solar system installation; 2) maintain a liability coverage policy at all times and provide the Association with the corresponding certificate of insurance within 14 days of approval of the application; 3) conduct a solar site survey and provide the Association with a copy of the results, which among other things shall also include a determination of the equitable allocation of the usable solar roof area among all owners sharing the same roof, garage, or carport; 4) bind the owner and all successive owners for costs of maintenance and damages with all repair responsibilities being allocated to the homeowner and his/her successor(s); and 5) require the homeowner's disclosures to all prospective buyers (and renters) of the restrictions and responsibilities.
The above requirements notwithstanding, the Association should get ahead of potential future issues involving solar panel systems by adopting guidelines addressing the policies and procedures regarding the application and installation of solar panels.  Additionally, Boards should consider requiring the execution and recordation of a maintenance and indemnity agreement whereby the applicant homeowner assumes responsibility for the costs of repairing damage to, among other things, the common area resulting from the installation, maintenance, repair, removal or replacement of the solar panels and all related hardware.  Such an agreement should also address what happens when the System needs to be removed or re-installed to accommodate community-wide roofing projects the Association may undertake in the future.
There are further concerns and other nuances that should be considered for each individual Association to ensure full compliance with the operative laws and effectively mitigate legal exposure.
| | |
| --- | --- |
| | Contact your HOA attorney to conduct an in-depth analysis for your community to ensure compliance with the legal requirements and help prepare a related Solar Policy and Maintenance & Indemnity Agreement. |
-Blog post authored by TLG Attorney, Sam I. Khil, Esq.