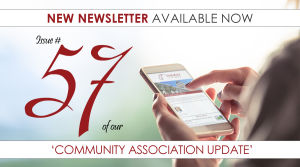 In case you missed it, Issue # 57 of our Annual Legislative & Case Law Update (2022-2023) newsletter is available now!
Topics covered in this issue include:
AB 1410 – Speech on Social Media; Room Rentals; Enforcement During Emergencies
AB 1738 – EV Charging Stations in Existing Multi-Family Developments
SB 897 – Accessory Dwelling Units
Artus v. Gramercy Towers
Fowler v. Golden Pacific Bancorp, Inc.
A link to the newsletter is here.
Need to be added to our mailing list? Click here to sign up. Links to previous editions of our newsletter can be found here.