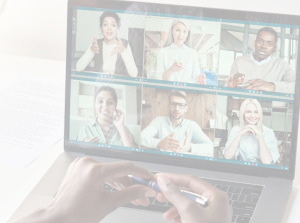 *New Legislation
On September 22, 2023, Governor Newsom signed AB 648 into law to finally permit homeowners associations ("HOAs") throughout California to conduct board meetings entirely be teleconference (aka "virtual meetings").  While existing law permits an HOA to conduct teleconference meetings, HOAs are still required to specify a "physical location" for the meeting at which members or directors may physically attend the meeting if they desired to do so. The only exceptions to this physical location requirement are if the meeting is held in solely in executive session, or if the meeting is held during a government declared state of emergency under Civil Code section 5450.
Effective January 1, 2024, AB 648 will add another exception to the physical location requirement by adding new Civil Code section 4926 to the Davis-Stirling Act.  AB 648's enactment is based upon the Legislature's findings that:
"Virtual homeowner association meetings improve and enhance homeowner members' ability to participate and comment on business-related matters of the association and their community" and "enable greater access for all members of the association."
Under Section 4926, an HOA will be permitted to conduct its open board meetings entirely by teleconference (without a physical location), provided that all the following requirements are satisfied:
Notice Requirements – The notice for each meeting conducted under Section 4926 must include, in addition to other required content for meeting notices, all the following:
Clear technical instructions on how to participate by teleconference;
The telephone number and e-mail address of a person who can provide technical assistance with the teleconference process, both before and during the meeting; and
A reminder that a member may request individual delivery of meeting notices, with instructions how to do so.
Equal Participation Requirement – Every director and member must have the same ability to participate in the meeting that would exist if the meeting were held in person.
Roll Call Vote Requirement –Any vote of the directors at a Section 4926 meeting must be conducted by a roll call vote.
Option to Participate by Telephone Requirement – Any vote of the directors at a Section 4926 meeting must be conducted by a roll call vote.
It is important to note that AB 648 did not have any impact on existing law governing HOA meetings at which ballots are counted and tabulated pursuant to Civil Code section 5120. If an HOA wants to conduct a ballot counting meeting via teleconference, it must still specify a physical location as discussed above.
| | |
| --- | --- |
| | AB 648's passage is welcome news to HOA board members and industry professionals that appreciate the convenience and efficiencies of conducting board meetings entirely by teleconference, utilizing popular tools such as Zoom and Go2Meeting. |