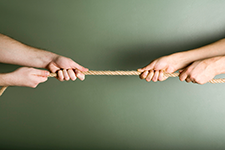 The Governor has signed AB 690 into law, which modifies several Code sections and adds two new Civil Code sections to the Davis Stirling Common Interest Development Act. Here is what you need to know about the new requirements:
New Civil Code Section 5376 provides that the manager, management firm, or third-party contractor must facilitate the delivery of escrow documents pursuant to Civil Code Section 4530, as required by the management contract.
New Requirements: Escrow Document Disclosure Form
The "Charges for Documents Provided" form described in Civil Code Section 4528 must be modified to include the following:
All information in at least 10-point type;
The statement: "The seller may, in accordance with Section 4530 of the Civil Code, provide to the prospective purchaser, at no cost, current copies of any documents specified by Section 4525 that are in the possession of the seller.";
The statement: "A seller may request to purchase some or all of these documents, but shall not be required to purchase ALL of the documents listed on this form.";
The fee for each document in the "Fee for Document" column of the form;
Fees must be separately stated and billed to distinguish them from other transfer fees; and,
A copy of the escrow document disclosure form must be included in the Annual Budget Report sent to members.
New Manager and Management Company Disclosures
Business & Professions Code Section 11504 and Civil Code Section 5375 have been amended to provide that, in addition to a CID manager's disclosure within 90-days of providing management services of their name, address, certification, real estate license, and fidelity insurance coverage, managers and management firms must annually disclose, in writing, to HOA boards the following:
Any referral fee or other monetary benefit the manager or management firm receives from companies that provide escrow documents and annual budget reports;
Acknowledgement that the records listed in the escrow document disclosure form are the property of the HOA, not the manager or management firm; and,
Any business or company in which the manager or management firm has an ownership interest, receives profits or other monetary incentives.
New Civil Code Section 5375.5 provides that, when presenting a bid for vendor services to a board, the manager or management firm must disclose, in writing:
Any referral fee or other monetary benefit that could be derived from a business or company serving the HOA (i.e., vendor the HOA board may contract with); and
Any ownership interests or profit-sharing arrangements with service providers recommended to, or used by the HOA.
| | |
| --- | --- |
| | Although managers have long been advised to disclose any potential conflicts of interest to an association's board of directors, AB 690 now codifies how and when a manager or management company must make that disclosure. |
-Blog post authored by TLG Attorney, Terri A. Morris, Esq.