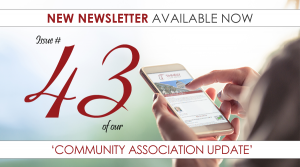 In case you missed it, Issue # 43 of our 'Community Association Update' newsletter is available now!
Topics covered in this issue include:
SB 323 – Elections
AB 670 – Accessory Dwelling Units
SB 326 – Balcony Inspections & Builder Defect Actions
SB 234 – Family Day Care Homes
SB 652 – Religious Items on Doors & Doorframes
HOA Liability for Failure to Uphold Maintenance Obligations
Voter Apathy Not a Required Showing in a Petition to Reduce CC&R Approval Requirements
Davis-Stirling Act Does Not Authorize 'Continuing' Assessment Liens
A link to the newsletter is here.
Need to be added to our mailing list? Click here to sign up. Links to previous editions of our newsletter can be found here.