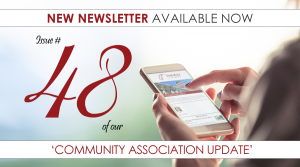 In case you missed it, Issue # 48 of our 'Community Association Update' newsletter is available now!
Topics covered in this issue include:
SB 908 – Debt Collection Licensing Act
AB 3182 – Rental or Leasing of Separate Interests
AB 1885 – Homestead Exemption
Insurance Company Denies Defense to Managing Agent Who Was Not an Additional Insured on the Policy
The Business Judgment Rules:  Inapplicable as to Decisions Made Under a Material Conflict of Interest
Lawsuits are Generally Protected Activity
Branches Decision Overturned as it Violates Public Policy
A link to the newsletter is here.
Need to be added to our mailing list? Click here to sign up. Links to previous editions of our newsletter can be found here.