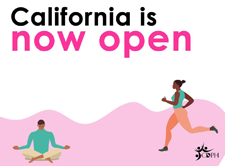 As of June 15, 2021, Governor Newsom terminated the executive orders that created the Stay-at-Home Order and the Blueprint for a Safer Economy. These orders have been replaced with and superseded by a new State Public Health Officer Order of June 11, 2021 ("Current Order"). This New Order requires all individuals, regardless of vaccination status, to wear face coverings: 1) on public transit; 2) indoors in schools and in childcare; 3) in healthcare settings; 4) in correctional facilities and detention centers; and 5) in homeless and emergency shelters. Vaccinated people may now forego face coverings in public places, including indoors, but unvaccinated persons must still wear face coverings in these locations.
The vast majority of HOAs are not open to public as their common area amenities and facilities are for the use of residents and their guests only. The Current Order, by its plain language, does not apply to these private businesses, which means that HOAs not open to the public are free to adopt their own reasonable rules related to face coverings and social distancing in common areas while the COVID-19 pandemic continues. Although progress has been made in vaccinations and in reducing community transmission, the pandemic is still ongoing, and the risks are still very real. However, the lifting of the state mandates and improved conditions means that HOAs are opening their community facilities and loosening restrictions on their use.
HOAs are tasked with various responsibilities and obligations to ensure the continued operation and well-being of the Association. Those obligations include keeping common areas safely maintained. The Association must continue to fulfill these obligations despite the lifting of governmental mandates through the adoption of reasonable rules.
It is arguably reasonable for HOAs to mirror the provisions of the Current Order when opening community facilities, although HOAs can choose to be more restrictive if the Board determines this course of action to be in the Association's best interest. However, only lifting masking requirements for vaccinated persons creates significant enforcement difficulties. Specifically, it forces the HOA to ask people if they are vaccinated. While asking persons if they are vaccinated is lawful (HIPAA is only applicable to healthcare providers), many will consider answering questions concerning their private health information an invasion of their privacy and by that same token, may refuse to answer. The law does not require anyone to answer such a question.
Moreover, an unvaccinated person could simply lie. Asking for vaccination cards poses the same dilemma and is arguably an even more egregious invasion of privacy. The administrative costs of implementing a registry of vaccinated versus non-vaccinated persons is also a concern as is monitoring who must and who may not wear masks at the facilities at any given time. Furthermore, vaccination is not fully achieved until two (2) weeks after the second dose in a 2-dose series, such as the Pfizer or Moderna vaccines, or until two (2) weeks after a single-dose vaccine, such as Johnson & Johnson's Janssen vaccine.  Determining when individuals received their shots adds an additional and undesirable layer to the screening and questioning process.
An additional concern is that some persons may not be vaccinated because of a medical condition or because of their religious beliefs which raises potential discrimination issues related to vaccine verification and questioning. Therefore, some HOAs are implementing an "honor system" in the form of a rule or policy that requires residents and guests who are not vaccinated to wear masks and allows those who are vaccinated to use the facilities without masks and without the HOA questioning or requiring proof. This model obviously carries the risk that an unvaccinated person will use the facility without a mask.
Another arrangement is to simply require all residents and guests to wear masks in the common area regardless of vaccination status, unless they are sunbathing, exercising, etc. This policy can be combined with social distancing requirements and sanitization efforts to provide increased safety and protection to facility users. Many businesses open to the public are still requiring the wearing of masks and may continue to do so for the protection of their customers even if the state or county does not mandate such measures. This model also eliminates the administrative costs and hassle of the screening and policing of mask-wearing for the unvaccinated only and reduces liability for those who feel discriminated against or otherwise wronged by an intrusive vaccine verification or questioning policy.
Regardless of the rules adopted by an HOA to protect residents from COVID-19 transmission, it is advisable for an HOA to post notices in community facilities advising users of the risks and that by using the facility, they agree to assume such risks. Depending on the policy adopted by the HOA regarding mask wearing, said notice should also reiterate face covering requirements for the facility's use. The requirement for users to sign waivers prior to using the facilities is still a potential option to add an extra layer of protection, but HOA's should discuss the use of waivers with their legal counsel which takes that HOA's location and unique characteristics into account.   While not a guarantee that the HOA will not be sued if someone catches COVID-19 in a common area, such measures may help mitigate the Association's legal exposure resulting from reopening.
| | |
| --- | --- |
| | HOAs should contact their legal counsel to prepare appropriate rules and policies for reopening in light of the Current Order. |
-Blog post authored by TLG Attorney, Carrie N. Heieck, Esq.