*New Case Law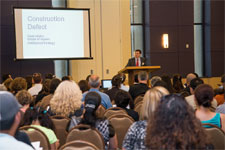 Civil Code Section 6150 requires that a homeowners association ("HOA") make various disclosures to its membership in the context of construction defect litigation. The HOA is further required to hold a meeting of its membership to "discuss problems that may lead to the filing" of a construction defect action, as well as the options available to the members to address those problems.
Such a meeting will likely involve communications between the HOA's construction defect attorney and individual members of the HOA whom are not the attorney's direct clients. Therefore, the extent to which those communications are protected by the attorney-client privilege may be uncertain. Fortunately, the recent case of Seahaus La Jolla Owners Association v. La Jolla View LTD addressed this issue and clarified the privileged nature of communications between a HOA's attorneys and its membership in the context of construction defect litigation…
After the HOA in Seahuas sued its developer for construction defects in the common areas, some of the HOA's members filed separate lawsuits against the developer for defects within their individual condominium units. During the course of litigation, the developer sought to take the members' depositions and to ask them about the statements made by the HOA's attorneys during the attorneys' status update meetings with the HOA's membership. The HOA's attorneys objected and claimed that their communications with the membership were privileged and could not be discovered by the developer during the depositions.
The Court of Appeal agreed with the HOA through an analysis of the HOA's requirements under the Civil Code and through applying what is known as the "common interest doctrine" which allows parties who possess common legal interests to share privileged information without waiving the protection of the attorney-client privilege:
"…the Association's duties and powers include communicating with those parties who have closely aligned common interests, and the individual homeowners at the development have such common interests in this particular context. On balance, these circumstances show that the Association and its counsel, and the individual homeowners who participated in the litigation meetings, maintained a reasonable expectation that information to be disclosed about the status of the litigation was confidential in nature."
The Court of Appeal therefore held that "the common interest doctrine and protection of confidentiality of these communications apply as a matter of law" to the circumstances at issue in Seahaus, and that the communications concerning the construction defect litigation at the HOA's update meetings were privileged.
| | |
| --- | --- |
| | The Court of Appeal's decision in Seahaus will bolster a HOA's abilities to keep its membership informed about the status of ongoing construction defect litigation without jeopardizing the HOA's position or the interests of its members. |
Blog content provided by Tinnelly Law Group attorneys Bruce Kermott and Steve Tinnelly.