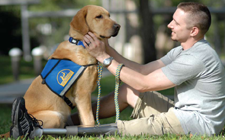 *Asked & Answered
Asked – Our high-rise condominium association does not allow dogs weighing over 40 pounds, but we have an owner that has requested an exception for her "companion" dog that is a 70 pound Golden Retriever. Does our HOA have to allow the homeowner to have her companion dog?
Answered – Probably. The HOA may not discriminate against individuals with disabilities by prohibiting a "companion" animal or a "service" animal. The HOA's weight restrictions for pets in the community does not apply to companion or service animals because they are not "pets." Companion animals provide psychiatric support to individuals suffering from a mental disability such as depression, claustrophobia, certain types of autism, and other disorders that are mental in nature, while service animals assist with physical disabilities.
The Board must be careful to properly address the request for an accommodation due to a disability. If the homeowner can provide documentation of her diagnosed need for the animal, the Association must permit her to keep the animal in the community. The request should be handled quickly and with respect for the individual.
Content provided by TLG attorney Terri Morris
To submit questions to the HOA attorneys at Tinnelly Law Group, click here.