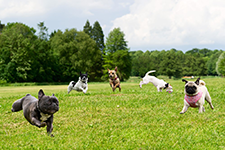 One of the many benefits of living in a homeowners association ("HOA") is the amenities provided to its residents. Common amenities include recreational rooms, pools, and fitness facilities. One amenity gaining in popularity is designated for the community's canine companions: dog parks. Dog parks provide dogs with a designated off-leash area where they can run, exercise and play while minimizing damage to other common areas. However, having such an amenity could increase a HOA's liability exposure, especially if the dog park is not designed properly and the HOA does not have rules and regulations governing the use of the dog park. Accordingly, the purpose of this article is to provide HOAs with best practices and guidance on adopting rules regulating the dog park.
Design
For HOAs contemplating the construction or installation of a dog park, or for those with pre-existing dog parks, the Board of Directors ("Board") should consider the park's design. One critical design aspect is the fence enclosing the dog park; the fence should be tall enough so that a large dog cannot jump over it. Additionally, the entrance into the dog park should be through a double-gate system. Such a system reduces the likelihood of a dog escaping. Finally, the HOA should also have two separate areas; one for larger dogs and one for smaller dogs. These are just a few of the design features a Board should consider when creating or modifying a dog park.
Rules
Most HOAs already have rules regulating the maintenance of pets within the community. However, if a HOA is considering installing a dog park, it should incorporate rules specific to the park. Moreover, those rules should be posted at all entrances to the park in a highly visible location.
Some rules to consider include the following:
Dogs are permitted to be off leash while in the dog park provided that they are able to respond to audible controls, such as whistling.
Dogs must be leashed upon exiting the dog park.
Dog owners shall remain in the dog park and shall maintain visual observation of their dog at all times.
Dogs must be current on all vaccinations.
Dogs with known violent propensities or aggressive behavior are prohibited from using the dog park. Any dog showing signs of aggression while in the dog park shall be removed immediately by the dog owner.
Owners shall pick up their dog's waste. Waste must be put in a tightly sealed plastic bag before being disposed of.
Owners are required to fill any holes created by the owner's dog.
| | |
| --- | --- |
| | Dog parks are a great amenity but can increase a HOA's liability exposure. It is therefore important for the Board to engage legal counsel before beginning the process of constructing and installing a dog park to ensure that the HOA is protected. |
-Blog post authored by TLG Attorney, Matthew T. Plaxton, Esq.