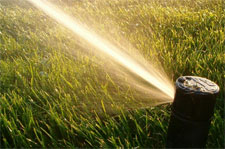 *New Regulations
The prolonged period of drought in California has resulted in numerous regulatory and legislative changes aimed at addressing the water shortage (i.e., legislation regarding low-water using plants and watering during droughts). On March 17, 2015, the State Water Resources Control Board adopted an expanded emergency regulation to safeguard California's remaining water supplies.
Under the expanded emergency regulation, additional prohibitions on potable water use have gone into immediate effect. All Californians are now prohibited from using potable water to:
Wash down sidewalks and driveways;
Water outdoor landscapes in a manner that causes excessive runoff
Washing a motor vehicle with a hose, unless the hose is fitted with a shut-off nozzle:
Operating a fountain or decorative water feature, unless the water is part of a recirculating system; and
Irrigating turf or ornamental landscapes during and 48 hours following measurable precipitation (*New)
The newly adopted prohibition on irrigating turf/landscapes during and 48 hours following precipitation (rain) may impact the common area maintenance/irrigation practices of HOAs. Failure to comply with that provision could subject a HOA to a fine of $500 per day.
| | |
| --- | --- |
| | To read more about the emergency regulation, click here. |