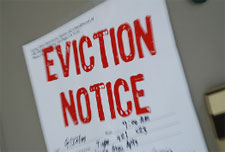 *Asked & Answered
Asked – A renter/tenant within our community is continually engaging in improper conduct, violating the governing documents, and causing nuisances that are impacting surrounding homeowners. Is there anything the HOA can do to evict the tenant? What steps can the Board of Directors take to prevent situations like this from happening in the future?
Answered – Improper conduct of tenants is a problematic situation commonly faced by homeowners associations ("HOAs"). Tenants often are not as involved in the affairs of the HOA as that of the HOA's members, nor do tenants feel the same sense of investment in the community. Additionally, members who rent out their homes typically prioritize rental income over the concerns of neighboring homeowners.
The degree to which a HOA may take action directly against an unruly tenant will be principally governed by the HOA's governing documents–specifically, the HOA's recorded declaration of covenants, conditions and restrictions (a.k.a. "CC&Rs"). The restrictions in the CC&Rs are "equitable servitudes" that are enforceable against the owners of the "separate interests" within the HOA (the HOA's members). Civ. Code § 5975. CC&Rs may contain provisions requiring tenants to comply with the HOA's governing documents. However, those provisions essentially confer obligations upon the members to control the conduct of their respective tenants. Therefore, any remedies available to the HOA in response to tenant violations or nuisance activities must generally be pursued through action against the tenant's landlord (the HOA member), not the tenant.
However, there are ways in which a HOA may broaden its ability to take action directly against a tenant. For example, a HOA can amend its CC&Rs to require any leases between a member and a third-party tenant to contain language which: (1) requires the tenant to comply with the governing documents, (2) grants the HOA the authority to take action directly against the tenant in response to violations, and (3) holds the landlord-member responsible for the HOA's attorneys' fees and costs incurred in taking such action. Such language would make the HOA a "third-party beneficiary" under the lease with the contractual right to enforce its terms through an eviction action or otherwise. Such language will also motivate members seeking to rent out their homes to secure higher-quality tenants at the outset.
| | |
| --- | --- |
| | In the absence of such language, the HOA should take formal action directly against the tenant's landlord (the HOA member). Faced with the threat of fines and costly legal action, the member will likely realize that his/her financial interests are better served through securing a different tenant. A HOA dealing with unruly tenants should therefore seek the assistance of its legal counsel to determine the best course of action. |
To submit questions to the HOA attorneys at Tinnelly Law Group, click here.