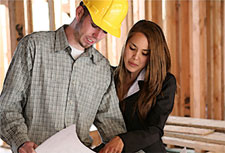 *New Legislation
We have previously blogged about the introduction of SB 822 by the California Legislature earlier this year. SB 822, in part, clarifies recent amendments to the California Business and Professions Code relating to "contractors" whom are required to be licensed by the state. The clarifying language was introduced in the wake of the confusion and concern that had surfaced regarding whether community association ("HOA") managers were required to hold a contractor's license in order to perform common tasks such as obtaining bids and overseeing the progress of ongoing construction work.
Thanks to the efforts of CAI's California Legislative Action Committee ("CLAC"), SB 822 was recently signed into law by Governor Brown and will take effect January 1, 2014. SB 822 adds the following provision to Section 7026.1(b) of the Cal. Bus. & Prof. Code:
"The term "contractor" or "consultant" does not include a common interest development manager, as defined in Section 11501, and a common interest development manager is not required to have a contractor's license when performing management services, as defined in subdivision (d) of Section 11500."
However, this does not mean that HOA managers should interpret this language as a "green light" to act as de facto construction managers. Doing so could expose the HOA, the manager and the management company to liability in the event a construction project goes south. How then can a HOA manager and Board avoid this problem without having to hire an independent construction manager for every project?…
Part of the answer lies in ensuring that the HOA's contract with the contractor is properly drafted to address this issue. Our firm routinely requires contract language which (1) obligates the contractor to designate one of its employees as the "construction manager" (if the HOA has not retained an independent one), and (2) limits the extent of the HOA's manager's role in overseeing the progress of the ongoing construction work. Of course, HOAs should still endeavor to retain independent construction managers for mid and large-scale projects where the additional expense is warranted.
| | |
| --- | --- |
| | While SB 822 is helpful to HOAs and their management, it is important to recognize that the contract language itself is the principal way in which to limit a HOA's liability exposure when contracting with vendors. This situation is yet another example why having vendor contracts reviewed by your HOA's legal counsel is a necessity in every circumstance, regardless of the size and scope of the service/job for which the HOA is contracting. |
For more information on vendor contract issues, click here to read our Library Article entitled "HOA Concerns in Contracting with Vendors"