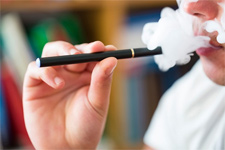 The popularity of electronic cigarettes ("E-Cigs") has increased in recent years. In light of unknown health risks, many state and local governments are passing laws restricting the sale and use of E-Cigs. Homeowners Associations ("HOAs") are following this trend and adopting rules prohibiting their use in common areas.
Questions have surfaced regarding the extent to which a HOA's operating rules that already prohibit smoking in certain areas may be applied to restrict E-Cig use as well. Most sets of operating rules do not explicitly define "smoking." Additionally, while the California Legislature is attempting to include E-cigs under the traditional restrictions applicable to cigarettes, no statute has been enacted that does so.
HOAs that desire to treat E-Cigs the same as traditional tobacco smoking products should amend their operating rules accordingly. Such action may be done at the Board's discretion, pursuant to the rule change procedures required under Civil Code Section 4360 (i.e., provide general notice of the proposed rule change at least thirty (30) days before making the rule change, the decision on the rule change must be made at a board meeting, and after the decision is made, general notice of the rule change must be provided to the members within fifteen (15) days). However, prohibiting E-Cig use in the interior of the members' separate interests (i.e., not just in the common areas or exclusive use common areas) may require a formal amendment to the HOA's CC&Rs rather than a mere change to its operating rules.
| | |
| --- | --- |
| | In light of the trend of state and local governments, as well as the unresolved questions concerning the health impacts of E-Cigs, operating rules that prohibit or restrict E-Cig use in common areas would likely be deemed "reasonable," and thus valid and enforceable. Additionally, HOA boards and management professionals should not disregard complaints from members regarding E-Cig "vapor" transmission, as we have blogged previously about how disregarding complaints dealing with second-hand smoke transmission can expose a HOA and its management company to substantial liability. In the presence of such complaints, a HOA should consult with its legal counsel for guidance. |
Blog post authored by TLG attorneys Matt Plaxton and Steve Tinnelly.