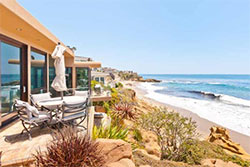 *New Case Law
The issue of short-term rentals (or "vacation rentals") is becoming increasingly significant for homeowners associations ("HOAs").  The concerns and problems that arise from having revolving groups of vacation renters in HOAs are well-documented, such as the fact that vacation renters are often "less careful in using the common facilities because they are not concerned with the long-term consequences of abuse." Watts v. Oak Shores Community Assn. (2015) 235 Cal.App.4th 466, 473.
To avoid these problems, many HOAs have lease restrictions within their governing documents such as a restriction which prohibits the rental or leasing of a property for a period of less than thirty (30) days. Such a restriction was adopted in 2016 by the coastal community of Mandalay Shores Community Association ("Mandalay Shores"), together with a schedule of significant fines that may be imposed on the owners of the roughly 1,400 homes in Mandalay Shores who violate the short-term rental rule. Two owners filed suit against Mandalay Shores seeking an injunction to stay the enforcement of the short-term rental rule, contending that the rule violates the California Coastal Act (Pub. Resources Code Sec. 3000 et. seq) (the "Act").
The injunction was ultimately granted on appeal.  The Court of Appeal noted that the Act was enacted to, among other things, "[m]aximize public access to and along the coast and maximize public recreational opportunities to the coastal zone consistent with sound resources conservation principles and constitutionally protected right of private property owners." While Mandalay Shores did not erect a physical barrier to the beach, the Court believed that it erected a monetary barrier, which had the same effect.
The Court was not persuaded by Mandalay Shores' argument that the short-term rental rule was to curtail parking, noise and trash problems. In his opinion, Acting Presiding Justice Yegan stated that such problems are to be addressed by the city and Coastal Commission: "The decision to ban or regulate [short-term rentals] must be made by the City and Coastal Commission, not a homeowner's association." Thus, in his opinion, a HOA may not adopt rules affecting "the intensity of use or access to single family residences in a coastal zone." To read the Court's holding in Greenfield v. Mandalay Shores Community Association, click here.
| | |
| --- | --- |
| | This case will have a profound effect on a HOA's ability to adopt rules preventing short-term rentals in coastal communities. HOA attorneys and management professionals should be mindful of this case when receiving requests from coastal community clients to adopt/amend rules to include short-term rental restrictions. |
-Blog post authored by TLG Attorney, Matthew T, Plaxton, Esq.