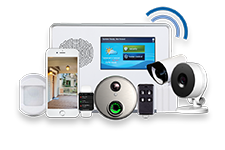 As security technology becomes less expensive and more accessible to average consumers, homeowners are provided with an exponential increase in available options for exterior security devices. A cursory Amazon search reveals hundreds of such devices including motion sensor lights and home camera offerings that can be accessed remotely from the convenience of one's smart phone. Given the benefits and low cost, many homeowners have installed security systems in and around their residences to mitigate the risk of theft, property damage, and other criminal activity. As purchases and installations of these devices increase, associations and architectural committees are increasingly confronted with the conflict between the owners' interest in safety and security, and the association's interest in uniform aesthetics and neighborhood privacy.
Association Regulation and Liability
Most common interest developments are structured and organized where the association maintains the residence/building exteriors and has the ability to regulate improvements attached and/or integrally related to them. This authority generally includes the ability to approve or deny owner applications to install exterior security devices. Some associations with strict architectural approval procedures may be inclined to significantly limit or outright reject owner installed exterior security devices. However, this approach can expose an association to potential liability, especially where there is a demonstrated need for such devices.
In the case of Frances T. v. Village Green Owners Assn. (1986) 42 Cal.3d 490, the California Supreme Court held that a homeowners association stands in relation to owners as a landlord and can be liable for breaches of traditional landlord duties such as failing to address unreasonable risks of criminal activity. The Court found that there was ample evidence to place the association on notice of an unreasonable risk to the plaintiff's safety, and the failure to act or to allow the owner a self-help remedy subjected the association to liability.
In light of the holding in Frances T., associations should avoid outright prohibitions on owner installed exterior security devices. Instead, associations should develop and implement a comprehensive policy that governs the application, approval, and installation process for such devices. Such a policy allows the association to control the aesthetic characteristics, installation locations, and fields of view (for cameras) necessary to preserve the aesthetic appearance of the community, while preventing the devices from intruding into the seclusion of other residences and infringing privacy rights.
Exterior Security Device Policy
When developing an exterior security device policy, one of the primary considerations should be to limit the risk of invading the privacy of other residences. Generally, there is no recognized right of privacy in common areas. However, California acknowledges that privacy interests can be infringed through devices that provide a technological intrusion from otherwise lawful vantage points. Civil Code section 1708.8(b) states in pertinent part:
A person is liable for constructive invasion of privacy when the person attempts to capture, in a manner that is offensive to a reasonable person, any type of visual image . . . or other physical impression of the plaintiff engaging in a private, personal, or familial activity, through the use of any device, regardless of whether there is a physical trespass, if this image . . . or other physical impression could not have been achieved without a trespass unless the device was used.
Under the guidance of the foregoing prohibition against such privacy infringement, any approval of exterior security devices should be focused on ensuring that the primary purpose of the device is to advance the security interests of the applicant owner, and the device does not present an unreasonable risk of privacy invasion to other residences.
To limit the risk of privacy intrusions, a security device policy should contemplate the following requirements:
An installation plot plan/map should be submitted by the applicant to indicate the intended installation locations and their corresponding fields of view for any visual recording devices such as cameras.
Such fields of view should not be permitted to observe neighboring residences, exclusive use, or common areas. Depending on the development/community layout, some installations may not be possible without capturing some of the foregoing areas (such as a doorbell camera that points towards common area). The association body tasked with the review and approval of security device installations should ensure that in such cases, the primary purpose is to advance the security interests of the applicant and that any common area field of view is merely incidental and as limited as possible.
Cameras must be "fixed view", without panning capabilities.
Finally, any approved installations should be revocable if the device violates the privacy of neighboring residences so as to constitute a nuisance.
| | |
| --- | --- |
| | Given the limitless permutations of common interest developments and their various layouts, there is no one size fits all approach to resolving the complex issues surrounding owner installation of exterior security devices. As such, consult with legal counsel to develop workable solutions to advance the association's interests, while preserving the owners' interest in security and privacy. |
-Blog post authored by TLG Attorney, Tim D. Klubnikin, Esq.