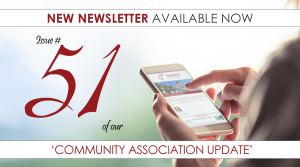 In case you missed it, Issue # 51 of our 'Community Association Update' newsletter is available now!
Topics covered in this issue include:
SB 9 Signed! Statewide Re-zoning of Single-Family Neighborhoods & Urban Parcel Splits
Removal of Common Area Amenities
Recall Petitions
Court Confirms not Everyone is Entitled to a Protected View
Megan's Law HOA Disclosures
A link to the newsletter is here.
Need to be added to our mailing list? Click here to sign up. Links to previous editions of our newsletter can be found here.