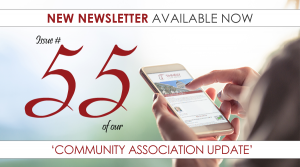 In case you missed it, Issue # 55 of our 'Community Association Update' newsletter is available now!
Topics covered in this issue include:
Combatting Unlawful Harassment with Restraining Orders
What the Cluck? Addressing Backyard Chickens in HOA's
The Impact of a Homeowner Filing Bankruptcy and Receiving a Discharge on Assessment Collection
How to Determine Whether Compliance Fines are Reasonable
A link to the newsletter is here.
Need to be added to our mailing list? Click here to sign up. Links to previous editions of our newsletter can be found here.