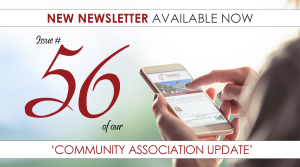 In case you missed it, Issue # 56 of our 'Community Association Update' newsletter is available now!
Topics covered in this issue include:
Should an HOA Interfere with Parental Rights? NO!
Retain Your HOA Counsel Throughout Insurance Claim Matters
"Evergreen" Clauses – Avoiding Self-Renewing Contracts
Non-Compete Clauses
A link to the newsletter is here.
Need to be added to our mailing list? Click here to sign up. Links to previous editions of our newsletter can be found here.