*Asked & Answered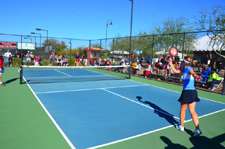 Asked – Several members of our association have requested that we convert a portion of our common area into a pickleball court. Does your office recommend moving forward with the installation?
Answered – Generally, no. For those who may not know, pickleball is a paddle sport that combines elements of tennis, badminton, and ping pong. Two or four players use solid paddles to hit a wiffleball over a net. It is an activity that can be played amongst all age groups and provides various health benefits and has increased in popularity in recent years. However, with its benefits comes numerous issues.
Considering that pickleball is played with a solid paddle and a wiffleball, it is an extraordinarily loud sport. Moreover, as it grows in popularity, it generally brings large gatherings of people together whose yells and cheers can be heard over great distances. This noise may result in a substantial nuisance to those within earshot and may subject the association to various lawsuits unless the pickleball courts are constructed far out of the earshot of the residences.
Unfortunately, our office has seen many associations attempting to convert croquet lawns, bocce ball courts, etc. into pickleball courts that are centrally located to other amenities provided by the association. These are typically areas which many members regularly visit as a place of quiet enjoyment and relaxation. Unfortunately, this quiet enjoyment could be severely disrupted once the pickleball courts are installed.
Even more concerning is when associations attempt to install the pickleball courts in areas immediately adjacent to residences. The owners of the surrounding homes will be routinely battered with the noise emanating from the pickleball courts. This will no doubt result in substantial frustration to those residents, may have a negative impact on their property value, and will, almost certainly, result in a nuisance lawsuit for the association.
The nuisance created by this loud sport has resulted in various lawsuits and settlement agreements costing associations tens of thousands of dollars and has severely harmed many associations' financial wellbeing. This, in turn, is then passed back to the membership by way of increased assessments.
As such, if the association decides to move forward with the installation of the pickleball courts , it is not a matter of if, but a question of when a lawsuit may be filed. Thus, unless the association has an area far removed from the residences and other common area amenities, it is likely not worth exposing the association to the increased risk of liability.
| | |
| --- | --- |
| | If your association has any questions as to whether to install a pickleball court in your association, contact your attorney to provide an in-depth analysis to ensure the association is not needlessly exposing itself to liability. |
-Blog post authored by TLG Attorney, Corey L. Todd, Esq.