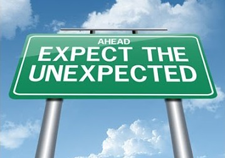 If 2020 has taught us anything, it is to expect the unexpected. California community associations base their successful and continuing operations on careful planning and budgeting, but Associations must also plan for the unexpected. To that end, association vendor contracts should be drafted to ensure they afford adequate protections for when peril strikes.
Community associations regularly contract with vendors for a variety of services including landscaping and the maintenance and repair of common area components. Vendor contracts are often woefully sparse and fail to contain language to provide the parties with a mechanism to deal with unexpected disasters like war, fire, terrorist acts, or even pandemics like COVID-19.
Force majeure is a Latin phrase that means "superior force." A force majeure contractual clause defines a set of events or circumstances beyond the contracting parties' control that may excuse or delay parties' contractual obligations for performance because performance would either be too difficult, impossible, or impracticable. Without it, the parties are bound to perform even in the face of a deadly viral pandemic which has resulted in shelter-in-place orders and business shutdowns across the state.
Citing Witkin Summary of Law, California courts have specifically held that "force majeure is the equivalent of the common law contract defense of impossibility and/or frustration of purpose: performance of a contract is excused when an (1) unforeseeable event, (2) outside of the parties' control, (3) renders performance impossible or impractical." Citizens of Humanity, LLC v. Caitac Int'l, Inc., No. B215233, 2010 WL 3007771 (Cal. Ct. App. Aug. 2, 2010). (emphasis added). In the realm of community association vendor contracts, COVID-19 has made the performance of certain contractual obligations impossible or impracticable. A large non-emergency construction project like a balcony repair which requires access by strangers to the inside of owners' units comes to mind.
Very few vendor contracts which have not been prepared or negotiated by an attorney contain force majeure clauses. While it is always advisable for Associations to have vendor contracts reviewed by counsel, COVID-19 is an additional reason to seek the advice of counsel before signing a vendor contract. Given that a pandemic and shutdown of this magnitude is, forever more, a foreseeable event, its description should be included in all force majeure contractual provisions moving forward, so as to erase any doubt as to what events constitute the triggering of a force majeure event.
Not all force majeure clauses are created equal. Boilerplate language has been held insufficient in California and other states—a good example being Watson Labs, Inc. v. Rhone-Poulenc Rorer, Inc., 178 F.Supp.2d 1099, 1111 (C.D. Cal. 2001), where language referring to "regulatory, governmental … action" was found to be too vague and boilerplate to reflect that the parties considered that the shutdown of the Defendant's plant would be encompassed.
Accordingly, an approach of over-inclusiveness should be adopted in drafting force majeure clauses. This ensures that not just a pandemic, but the effects of a pandemic, such as shelter-in-place orders, quarantines, government shutdowns, and other economic ripples caused by the response to an epidemic or pandemic be included in the definition of a force majeure event.
| | |
| --- | --- |
| | Associations should have all contracts reviewed by counsel and vendor contracts should contain a well-drafted force majeure clause to afford associations protection from liability in the event a pandemic or other force majeure event requires the delay or termination of a contract. |
-Blog post authored by TLG Attorney, Carrie N. Heieck, Esq.