*Asked & Answered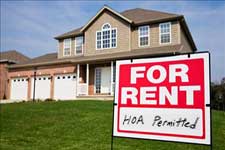 Asked – Can the Board amend the HOA's CC&Rs to limit a homeowner who owns multiple units from renting more than one unit unless they live within the HOA?
Answered – Yes. Provided that the requisite procedures are followed and membership approval is obtained, the Board of Directors does have the authority to amend your HOA's CC&Rs to include such a rental prohibition. However, because the amendment serves to effectively prohibit a homeowner's ability to rent out a unit (as compared to a less-severe, reasonable restriction on rentals), the California Civil Code limits the degree to which current homeowners would be bound by the prohibition.
Senate Bill 150 added Section 1360.2 to the California Civil Code to insulate certain homeowners from any "provision in a governing document or an amendment to a governing document that prohibits the rental or leasing of any of the separate interests" that was adopted by the HOA on or after January 1, 2012. The only homeowners who may be bound by such rental prohibitions are those who bought their homes after the prohibition had already been adopted and in effect, as well as those who consent to being bound by it.
In your situation, an interesting question becomes how would the Civil Code treat enforcement of such a prohibition against a particular homeowner who owned one unit within the HOA before the prohibition was adopted ("Unit A"), and then later, after the prohibition is adopted, purchases another unit in the HOA ("Unit B")? The language of Section 1360.2 seems to suggest that the rental prohibition would indeed be valid and enforceable against Unit B. However, a thorough assessment of the facts at issue as they relate to the legislative intent behind Section 1360.2 would be necessary to make a more complete determination.
| | |
| --- | --- |
| | If your Homeowners Association is contemplating the adoption of a new provision to restrict or prohibit rentals, careful consideration must be given to how the Civil Code's limitations will impact the enforcement of the new provision and whether those limitations will frustrate the homeowners' goals in adopting it. Consulting with your Homeowners Association attorney will assist in crafting a provision that serves the interests of the homeowners while also preventing costly legal challenges to its enforcement. |
To submit questions to the HOA lawyers at Tinnelly Law Group, click here.