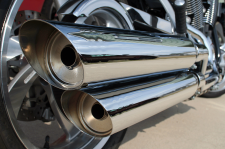 *Asked & Answered
Asked – We have several vehicles that are "extremely loud" due to their exhaust systems. Even with all windows and doors closed and these vehicles 1/2 way across the complex, there is NO PROBLEM hearing them when they start them. They even set off car alarms near them. Can we ask them to address the noise they cause?
Answered – Noisy neighbors are a frequent occurrence in common interest developments, especially in dense housing communities (e.g., condominiums). And while the California Supreme Court has indicated that individuals "in a community must put up with a certain amount of annoyance, inconvenience and interference," (San Diego Gas & Electric Co. v. Superior Court (1996) 13 Cal.4th 893, 937), that does not extend to situations which have a substantial impact on residents' use and enjoyment of their separate interests.
Indeed, residents of a common interest development are generally entitled to the peaceful use and enjoyment of their respective separate interests as well as the common areas. Ensuring such peaceful use and enjoyment is what underlies many of the provisions set forth in an association's recorded Declaration of Covenants, Conditions and Restrictions ("CC&Rs"). Residents purchase or rent their separate interests within an association in reliance on those restrictions being consistently and faithfully enforced.
The peaceful use and enjoyment to which residents are entitled is typically reflected in the association's CC&Rs under the heading "use restrictions." The following is a common example of a use restriction preserving the right of residents to the peaceful use and enjoyment of their separate interest:
No Condominium shall be used in such a manner as to obstruct or interfere with the enjoyment of occupants of other Condominiums or annoy them by unreasonable noises or otherwise, nor shall any nuisance be committed or permitted to occur in any Condominium.
This provision, alone, can serve as a basis to prevent residents from operating vehicles in the community that are "extremely loud." However, some associations go a step further and adopt operating rules identifying what constitutes an "unreasonable" noise. For example, an association may adopt an operating rule prohibiting residents from operating vehicles that exceed a certain decibel level; or, more commonly, adopt an operating rule prohibiting residents from operating vehicles that produce "excessive" noise thereby providing the Board of Directors with the broad discretion to determine what constitutes "excessive."
| | |
| --- | --- |
| | In sum, the ability to regulate conduct or activities that constitute a nuisance is well within the scope of authority granted to an association. This power extends to prohibiting residents from operating extremely loud vehicles within the community. Associations facing such issues can and should commence enforcement efforts to remedy the violation, and, if the association has not done so already, adopt operating rules addressing such conduct.  |
Content provided by TLG attorney Matthew T. Plaxton, Esq.
To submit questions to the HOA attorneys at Tinnelly Law Group, click here.