*Asked & Answered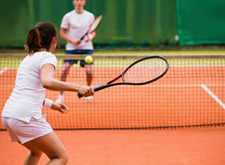 Asked – Many owners in the community have requested that the board of directors consider removing an old, largely unused tennis court. We have three other tennis courts in the community and the space could be repurposed for a variety of other uses. Does the board have the authority to remove the tennis court?
Answered – Generally, not without membership approval. The membership pays dues for the maintenance, repair, and use of common area amenities. Many owners make their purchasing decisions in reliance on the available facilities a community has to offer. If the board unilaterally begins removing amenities without membership approval, there could be a risk of exposure to potential legal action. In addition, some associations have specific provisions in their governing documents that prohibit the elimination of common area amenities without membership approval.
That said, there can be limited situations where a board may have the authority to remove a common area amenity without a vote of the membership. Such situations may turn in part on the size of the amenity, whether it poses a hazard to the residents, and if the governing documents authorize such an action. However, disrepair alone generally cannot be the sole basis of a removal decision as the association usually has a duty to maintain common area amenities in good repair.
| | |
| --- | --- |
| | We recommend that associations and their boards proceed with caution when evaluating whether to remove a common area amenity. Counsel should be consulted to review the association's governing documents to advise whether any specific provisions limit or restrict the board's authority or require a vote of the membership for such actions. |
-Blog post authored by TLG Attorney, Tim D. Klubnikin, Esq.