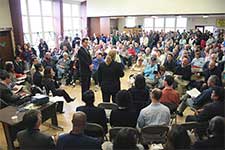 New Civil Code 4515 will be added to the Davis-Stirling Act to ensure that homeowners association residents may exercise their rights of peaceful assembly and political speech.
HOAs are playing an increasing role in the lives of California's residents as compared to the roles traditionally played by cities and counties. HOAs are growing in number, size and sophistication. As a result, a HOA's actions and governance structure often have more immediate effects on the issues homeowners feel "closest to home," such as property values and community services. This is why California law will at times hold HOAs—which are private corporations—to the standards of "quasi-governmental entities."
An example of this was seen several years ago when legislation was enacted to grant every HOA member the right to use common area meeting spaces for purposes related to a HOA's election. The intent was to promote constitutional principles of freedom of speech and assembly; to allow HOA members to meet for purposes related to an ongoing HOA campaign (i.e., a HOA board election), and to do so without any unreasonable impediment imposed on them by their HOA.
SB 407 (Wieckowski) is a newly signed bill that takes this idea much further. It was introduced in response to what California's legislators felt to be a continuing abuse of power by HOAs in using non-solicitation rules to prohibit non-commercial free and political speech:
"Blanket prohibitions on commercial solicitation are often so broadly written that they could be interpreted to prohibit non-commercial free and political speech."
"Significant anecdotal evidence demonstrates that HOAs have extended the restrictions of door-to-door solicitation to political speech."
"Overly broad rules and policies discourage the civic participation of HOA members and criminalize free political expression."
Effective January 1, 2018, new Civil Code 4515 will be added to the Davis-Stirling Act. It will invalidate any governing document rule, restriction or regulation which prohibits the following:
Peacefully assembling or meeting with members, residents and "their invitees or guests" during "reasonable hours and in a reasonable manner for purposes related to common interest development living, association elections, legislation, election to public office, or the initiative, referendum or recall process."
Inviting public officials, candidates for public offices, or representatives of homeowner organizations to meet with members, residents and their invitees or guests and speak on matters of public interest.
Using the common area, including the community or recreation hall or clubhouse for an assembly or meeting described above.
Canvassing and petitioning the HOA's members, the HOA board of directors, and residents for the activities described above.
Distributing or circulating, "without prior permission," information relating to the issues described above or any "other issues of concern to members"
Requiring a member to pay a fee, make a deposit or obtain insurance in order to use the common area for the meetings described above.
This goes far beyond door-to-door solicitation. HOA members and residents will now have expanded speech and assembly rights not only for issues related to an ongoing HOA election, but anything that could be said to be an "issue of concern" to the members, as well as anything relating to public interest, legislation, elections to public office, or anything which is related to "common interest development living." In other words, broadly written legislation will be used to combat broadly written HOA solicitation rules. Notably, the legislation is another example of the California Legislature's desire to explain its intent within the language of the law itself:
"It is the intent of the Legislature to ensure that members and residents of common interest developments have the ability to exercise their rights under law to peacefully assemble and freely communicate with one another and with others with respect to common interest development living or for social, political, or educational purposes." (New Civ. Code 4515(a), Effective 01/18).
Opponents to the legislation believe it may be a poorly drafted solution to a problem of questionable prevalence. While they may understand its underlying merit on the issue of First Amendment rights, they believe it has the potential for abuse that would cause unwarranted and expensive community discord. Supporters of the legislation believe these concerns are overstated, and that you shouldn't be compelled to surrender your constitutional rights at the entrance gates to your community.
| | |
| --- | --- |
| | In the wake of SB 407, HOAs should have their legal counsel review their current rules and policies with respect to campaigning, solicitation and common area use. Rules or policies which violate the new law subject the HOA to court action and fines. |
-Blog post authored by TLG Attorney, Steven J. Tinnelly, Esq.