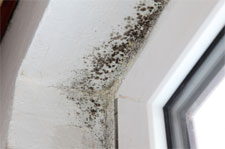 *New Legislation
Existing law requires a landlord to repair certain "dilapidations" that render a unit untenantable. SB 655 (Mitchell) was proposed earlier this year in order to specify a landlord's responsibilities in connection with repairs to a building that are necessitated by the presence of mold. SB 655 was approved on October 9, 2015 and its changes to the law will become effective January 1, 2016.
As a result of SB 655's passage, new Section 1941.7 will be added to the Civil Code in order to alleviate a landlord's responsibility to repair mold damage until the landlord receives notice or if the tenant is in violation of his/her obligations specified under Civil Code Section 1941.2. What's more significant is how SB 655 will also amend Sections 17920 and 17920.3 of the Health & Safety Code to include "visible mold growth" as a substandard building condition that could subject a landlord to criminal penalties (misdemeanor), with a limited exception provided for mold that "is minor and found on surfaces that can accumulate moisture as part of their properly functioning and intended use."
SB 655 speaks to landlords (a "lessor of a building"), and not necessarily homeowners associations ("HOAs"). However, courts have applied landlord/tenant law to HOAs in certain circumstances, such as those involving issues of life safety. (See Frances T. v. Village Green Owners Assn. (1986) 42 Cal.3d 490.) Thus, there is a concern circulating throughout the HOA industry that a condominium HOA (i.e., its Board or management) could now face criminal liability for its unreasonable failure to address reports of mold and to take appropriate corrective measures.
| | |
| --- | --- |
| | We do not believe that SB 655 will ultimately subject HOA Boards or management professionals to criminal liability. However, SB 655 does underscore how important it is for a HOA to immediately address reports of mold and to take appropriate action. A HOA Board should consider working with the HOA's attorney to adopt a formal water intrusion/mold policy. That policy would help educate members on their obligations to immediately notify the HOA and its management of the presence of mold within their Units, and would also specify the HOA's policy in responding to reports of mold. |