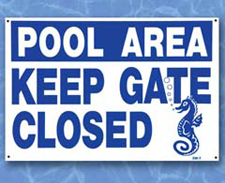 *Asked & Answered
Asked – Is there a new sign requirement for pools located in homeowners associations?
Answered – Yes. Title 24 of the California Building Code was updated to require new safety signs for public swimming pools. (Association pools are considered public pools.) Two new signs are required for all pools:
A sign shall be posted on the exterior side of all gates and doors leading into the pool enclosure stating, "KEEP CLOSED."
A sign in letters at least 1 inch high and in a language or diagram that is clearly stated shall be posted at the entrance of the pool area which states that persons having currently active diarrhea, or who have had active diarrhea within the previous 14 days shall not be allowed to enter the pools water.
A third new sign must be posted at pool areas that have spray ground (interactive fountains) that children run through, and made visible from any part of the spray ground that states, "CAUTION: WATER IS RECIRCULATED. DO NOT DRINK."
| | |
| --- | --- |
| | The signs are required immediately on all new pool construction; however, on existing pools it will be up to the Environmental Health Services personnel that inspect the association's pool to provide the deadline for positing the new signs. It would be prudent to have the signs posted as soon as possible. |
Content provided by TLG attorney Terri Morris
To submit questions to the HOA attorneys at Tinnelly Law Group, click here.