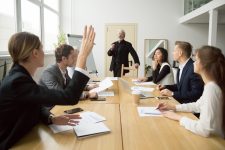 In the State of California, most HOA's are non-profit corporations managed by a board of directors composed of volunteer homeowners elected by the membership. Boards derive their authority from the governing documents including the Articles of Incorporation, Bylaws, and Covenants, Conditions, and Restrictions (CC&Rs) that impose rules and restrictions on the use of property within the development. The board of directors, acting on behalf of the HOA, is responsible for the maintenance of the common areas of the property, enforcing the governing documents, and collecting assessments. While most boards delegate duties to management companies and rely on experts such as attorneys and CPA's to aid in decision-making, the board is ultimately responsible for decisions and actions taken by the HOA.
HOA board members are not compensated for their services and are typically not experts or even very familiar with the strict requirements for HOA management. While new directors typically run with an altruistic motive to help their communities and "get things done," it is important that they understand the structure of a community association, the association's authority over the development and its owners, and the unique way an association is governed. Board education is a great way to familiarize new members with an overview of their duties and responsibilities and to provide a refresher for existing Board members so that the HOA runs smoothly, efficiently, and with minimal exposure to liability. Board education can also help protect directors for incurring personal liability for decisions made in the scope of their duties.
Board education is offered by management companies, law firms, CAI chapters, and others with expertise and knowledge in HOA governance. There is no one-size-fits-all educational program as the issues faced by HOA's are often unique to each association. Some general topics for Board education include but are not limited to:
General Duties and Responsibilities of Directors
Laws Applicable to Common Interest Developments
Types and Hierarchy of Governing Documents
Business Judgment Rule
Conducting Meetings
Enforcement and Disciplinary Matters
Financial Responsibilities
Maintenance Responsibilities
Assessments & Collection
Director Conduct
Contracts
| | |
| --- | --- |
| | An educated board oftentimes results in a better-functioning HOA with less legal fees, less special assessments, less contentiousness, and higher property values. Board members who are willing to put personal differences and agendas aside, are open to considering expert advice and differing viewpoints, and who work collaboratively with other directors and in the best interests of the Association as a whole, are the directors who best serve their communities. While directors will always be subject to criticism since it is impossible to please everyone, with proper education, those directors' actions will better withstand such scrutiny. |
-Blog post authored by TLG Attorney, Carrie N. Heieck, Esq.