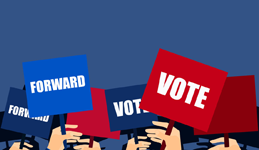 We have just passed the two-year anniversary of California Civil Code 4515. This is the law that protects certain rights of members and residents to political speech and peaceful assembly within California community associations. With election season in full swing, it is important for Boards and management to be reminded that the rights afforded to members and to residents by Civil Code 4515 to utilize Association common area facilities and to campaign are not unlimited.
For many associations, Civil Code 4515 comes into play when members or residents (the code applies to both) seek to use common area facilities to hold campaign or political rallies. Rules that previously required the payment of a deposit and/or fee plus proof of liability insurance to reserve a facility for an event needed to be revised in light of the new law, which prohibits such fees, deposits, and insurance for those using the common area facilities for assembly purposes. Managers and Boards were left with the burden of determining how to differentiate between those wishing to use the common area facilities for private events such as birthday parties where a fee can still be charged and those who desired to use those same facilities for assembly purposes where fees cannot be charged.
Reasonable Restrictions on the Use of Common Area Facilities for Assembly Purposes. Association rules & regulations and facility use agreements are useful tools in balancing the requirements of the law with reasonable restrictions that protect the Association. Possible restrictions on the use of facilities for assembly purposes are as follows:
Not open to the public: Both the rules and facility use agreements may require that any 4515-related meetings or events be restricted to members, residents and their guests only so as not to open the Association's facilities to the public. If the Association is open to the public, it must comply with the Americans with Disabilities Act, a costly endeavor that exposes the Association to potential significant liability if the strict ADA requirements are not met.
Occupancy restrictions: The fire department of each city typically sets maximum occupancy limits for association facilities such as clubhouses. Those reserving the facilities should be required to limit their events to no more than what is permitted by the fire code or to any other reasonable number determined by the Board as the maximum capacity for each facility. Attendance beyond capacity burdens Associations with traffic, potential for unruliness and nuisance, and excess strain on common area components such as restrooms.
Responsibility for damages: Although no fee or deposit may be charged upfront, this does not mean members cannot be held responsible for damage caused to the common area by their residents and guests during 4515-related gatherings. A facility use agreement may be required for anyone reserving the facilities. Reservations should be required in advance and a stated purpose should be required when making the reservation that the meeting is for proper assembly purposes pursuant to Civil Code 4515. If a non-member resident wishes to use a facility for a proper assembly purpose, the member who owns the Lot/Unit where the resident resides may be required to sign such an agreement assuming responsibility for any damage caused at their event. Additionally, most CC&Rs contain a provision that makes members responsible for damage caused to the common area by them, their tenants or guests and many of these damages can be levied as a reimbursement assessment, depending on the language of the Association's CC&Rs.
Cleaning fees. A facility usage agreement can also require that a member and/or resident reserving a common area facility return the facility in the same condition in which they received it, which includes cleaning and the disposal of trash. If the individual fails to return the facility in the same condition, the Association can charge the responsible member for cleaning fees as required by a facility usage agreement.
Parking: Parking is a concern for many associations and the scheduling of a large rally poses a potential strain on Associations where parking is limited. Civil Code 4515 does not afford members or residents with additional parking rights. That means that the existing parking rules and regulations apply to attendees of an event for assembly purposes. Once the guest spaces are all occupied, attendees must make arrangements to park elsewhere to avoid being cited and/or towed as provided in the Rules.  This should be made clear in any facility use agreement so advance arrangements for parking for their guests if necessary. Compliance by all attendees with the governing document provisions, not just its parking provisions, should be required by the rules and/or a facility use agreement for assembly-related events.
Alcohol use: The Association may ban the use of alcohol at events for assembly purposes – even if alcohol is allowed at private events. Because procuring insurance cannot be required for those reserving facilities for assembly purposes, it is reasonable to ban alcohol or other activities which may increase legal exposure to the Association at these gatherings. Likewise, items such as sound equipment that may be used for private events can be withheld from assembly events with no deposit so long as this limitation is made clear in the facility use agreement and/or rules.
Compliance with the governing documents. Members and residents and their guests using common areas must still comply with the provisions of the Association's governing documents including as to noise levels, parking, cleaning up after service animals, etc. This can be made clear in a well-drafted facility use agreement.
Reasonable hours: Holding a political rally does not give members and residents 24-hour access to the Association's facilities or rights above members who request to use the facilities for their private events. Rules should be adopted that ensure all members have equal access to these facilities, including for private events, and that the events end at a reasonable time to ensure noise levels are not interrupting residents' quiet enjoyment of their property.
Designated Areas. Often, an Association's clubhouse is near a pool or to other facilities and guests of the assembly event spill out into other areas not reserved for the event. A facility use agreement can require that the event must be contained within the reserved facility and that guests may not migrate beyond said designated area.
What is a Proper "Assembly" Purpose Under Civil Code 4515?  Most Associations are concerned about the potential abuse of this statute in the form of members reserving facilities without paying a fee stating it is for assembly purposes when it is really just a private event. Examples of qualified purposes of assembly are to discuss common interest living, association elections, legislation, election to public office, or any initiative, referendum, or recall process involving the Association or other political body. If the stated purpose for reserving a facility does not fall into one of these categories, then it is a private event.
Limitations on Canvassing and Petitioning. While Associations cannot restrict canvassing, petitioning, or the circulation of materials for political purposes, they can place reasonable restrictions on these activities such as requiring that it take place only during certain hours. This type of political speech often gives rise to complaints by members disturbed by such unsolicited campaigning and door-knocking, but the Association may not bar such free speech activities when done in a reasonable manner.
| | |
| --- | --- |
| | To implement reasonable and common-sense restrictions on political speech and assembly without violating Civil Code 4515, HOAs should have their legal counsel review their current rules and policies with respect to campaigning, solicitation and common area use and to prepare agreements concerning the use of common area facilities. Rules or policies which violate Civil Code 4515 subject the HOA to court action and fines. |
-Blog post authored by TLG Attorney, Carrie N. Heieck, Esq.