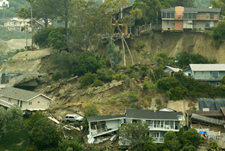 Southern California is known for the warm weather, relaxing atmosphere, and in certain cases, picturesque Homeowners Associations (HOA) situated high enough to see the ocean.  However, what happens when those picture-perfect HOAs have a slope movement/failure?  What should the Board of Directors (Board) do?
Slope Maintenance
Slopes within an HOA development are usually maintained by the HOAs via a maintenance agreement, by the Lighting and Landscape Assessment District (LLAD), or by the homeowners themselves.  Slope maintenance involves management of sub-surface and above-surface areas.
Sub-surface maintenance will most likely involve vegetation root volume and irrigation system preservation, which is integral in supporting the slope structure itself.  For steeper slopes, there might be a heavier support system built into the slope.  Above-surface maintenance will most likely involve vegetation/brush preservation for aesthetical purposes and to prevent fire hazards, among other things.
The HOA's management should routinely follow-up with the HOA's landscape maintenance crew to monitor the slope, v-ditch (concrete channel usually at the bottom of a hill to collect drainage) and other drainage routes, and water pipelines.  If maintained properly—barring extenuating circumstances—naturally occurring slope movement should be very minimal.  It should be noted that there is always some sort of slope movement due to erosion and time.  However, should abnormal slope movement/failure be noticed, the HOA's management company and Board should and must be notified immediately.
Improvements on Slopes
The structural integrity of slopes is very complex.  This means homeowners should consult with the HOA's management and Architectural Committee before placing any improvements on or surrounding the slope as improperly engineered improvements may cause unwanted slope movement/failure.
Improvements may vary, but the most common ones are plants, fences, poles, pipes, decks, patios, and walkways.  The Board should be aware of any improvements that change or interfere with the contour/drainage/support system of the slope.  It would be prudent to require homeowners to submit an Architectural Application consisting of detailed improvement plans that have been vetted by a licensed geotechnical expert familiar with slopes.  Furthermore, to cover all bases of liability, the Architectural Committee should retain its own geotechnical expert to analyze whether allowing said improvement(s) would be detrimental to the integrity of the slope.  Such measures might cost a bit upfront, but compared to a major slope movement/failure, a geotechnical bill to analyze improvement plans would be inconsequential.
Board Action
An HOA's Board will be called upon to act in the event of slope movement/failure.  It is important for the Board to take immediate action as slope movement/failure can be detrimental to the physical wellbeing of everyone in the community and the homeowners' properties involved.  Additionally, immediate action will ensure that more data may be collected for the analyzation of the slope movement/failure. Here are a few things for the Board to consider:
Note the approximate time of the slope movement/failure
Catalog picture and video evidence of the slope movement/failure and any homeowners' property damage
Contact the HOA's general counsel
Create an executive committee to promptly handle all matters pertaining to the slope movement/failure
Consult/retain a geotechnical expert as soon as possible
Contact the HOA's landscape maintenance crew regarding any potential broken irrigation pipelines and/or hazardous vegetation, if applicable (e.g., if there is a leak, the maintenance crew should try to perform temporary repairs/stoppage, or as advised by a geotechnical expert)
Contact the HOA's insurance carrier and tender claims as necessary (note that some HOA policies might have exclusions regarding earth movement/slope failure, but the HOA's general counsel will be able to navigate those areas with the insurance representative)
Involve the homeowners' insurance carrier if they have property damage due to the slope movement/failure
Prepare and have ready past HOA water irrigation reports, water invoices, landscape maintenance invoices…etc.
Review the HOA's budget and all/pending capital expenditures
Consider winterizing the slopes if the slope movement/failure occurs before or during the rainy season
The following above is by no means an exhaustive list, but it is the bare minimum the Board should do in the event of a slope movement/failure.  After the HOA's counsel and geotechnical expert have been consulted, there would usually be four (4) phases to go through before the slope is back to its original condition: (1) preliminary above-surface investigations (i.e., measurements of movement/failure, noting any damages, reviewing HOA records…etc.); (2) sub-surface invasive investigations (i.e., digging, collecting soil samples, lab analyzation…etc.); (3) drawing building/repair plans and obtaining city approval; and (4) rebuilding/repairing the slope.  The HOA should expect each phase to take a minimum of one (1) month if all parties—Board, homeowners, counsel, insurance carriers…etc.—cooperate.  However, if parties are uncooperative, the phases can be delayed by months if not a year or more.  Moreover, if there is slope movement/failure during the rainy season, the slope must be winterized (e.g., protected against further rainfall, water pooling) and rebuilding/repairs will likely not begin until the spring when the ground is a bit drier.
| | |
| --- | --- |
| | The Board must keep in mind that should the slope movement/failure be extreme, the costs associated with determining the cause and rectifying any damages will be vast (~ $300K if not more).  This is not taking into account any legal disputes between the parties as liability and responsibility for the slope movement/failure will not be clear until after phase 2 investigations.  Therefore, if HOAs have a slope movement/failure, it is best to contact general counsel immediately! |
-Blog post authored by TLG Attorney, Vivian X. Tran, Esq.