*Asked & Answered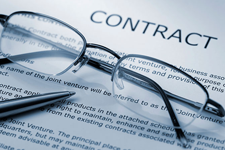 Asked – Our HOA community manager always recommends that our vendor contracts be reviewed by our HOA attorneys before we sign them. Is this really necessary?
Answered – Yes! Contract review is an integral step to protect the HOA against future contract disputes. Oftentimes, HOA Boards of Directors don't think twice about a contract until there is a dispute with the other party later on. By this point, it's too late to negotiate contract terms, and the Board is often left to interpret and navigate poorly written and single-sided provisions that do not provide any support or protection to the HOA.
Contract disputes can be extremely costly and time-consuming. Since contract disputes and related expenses are unpredictable, they aren't necessarily incorporated into the HOA's annual budget; this can put a lot of financial strain on the HOA and could lead to special assessments on the membership to cover the costs. Furthermore, contract disputes can leave the HOA tied up with a vendor in which they'd rather part ways. This could leave the HOA without the ability to hire a new, better-qualified vendor to perform the job at hand.
Our HOA attorneys are skilled in the review, revision, and negotiation of contracts specific to HOA needs. Our attorneys can spot concerns that may not be obvious to a Board member, recommend alternative or additional language to provide HOA specific protections, and also communicate these concerns directly with the vendor. Additionally, our attorneys can identify whether the Board may be prohibited from entering the contract pursuant to the HOA's governing documents. Combined, these efforts will result in a more comprehensive contract and more balanced protections for the HOA.
| | |
| --- | --- |
| | By taking the time up front to work with our expert attorneys, Board members can be assured that they are prudently adhering to their fiduciary duties and feel confident that they have taken appropriate measures to mitigate costly and time-consuming contract disputes in the future. |
-Blog post authored by TLG Attorney, Joelle M. Bartkins, Esq.