*Asked & Answered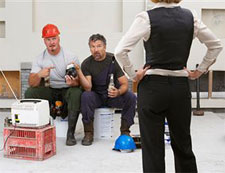 Asked – What effects does hiring an unlicensed contractor bear on a HOA?
Answered – In accordance with the Contractors State License Board, it is illegal for an unlicensed contractor to perform work on any project that exceeds $500 or more in labor and materials. A Homeowners Association (HOA) that hires an unlicensed or uninsured contractor subjects itself to liability for unpaid wage or worker's compensation claims the contractor's employees may have. For example, a HOA that hired an unlicensed contractor was held to be a "general contractor" and thus required to pay the unpaid wages of the unlicensed contractor's employees. Sanders Construction v. Cerda (2009) 175 Cal.App.4th 430. Additionally, a HOA and a management company that hired an uninsured contractor were held to be the "employers" of the uninsured contractor's employee so as to make the HOA and the management company liable to the pay the employee's workers compensation benefits. Heiman v. Workers' Compensation Appeals Board (2007) 149 Cal.App.4th 724.
| | |
| --- | --- |
| | HOAs and management companies should always do their due diligence when hiring a contractor to ensure that the contractors are properly licensed. A HOA can verify the license of their proposed contractor by going to the Contractors State License Board verification page. Additionally, in case of any unforeseen scenarios, the HOA should protect itself by having provisions in its contracts indemnifying any wage or hourly claims by its employees. |
To submit questions to the HOA attorneys at Tinnelly Law Group, click here.