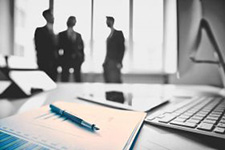 On September 25, 2017, Governor Brown signed AB 1412 (effective January 1, 2018) which seeks to clarify Civil Code Section 4041 (Annual Notice of Owner Contact Information) and Civil Code Section 5800 (Limitation of Director and Officer Liability).
Under current law, Civil Code Section 4041 requires the Association to solicit, on an annual basis, mailing addresses from the Members for purposes of providing notice.  Members are required to state the primary and secondary addresses to which notices from the Association are to be delivered, among other things.  If no such notice is provided, that Section 4041 provides that the default mailing address for purposes of delivery shall be the Member's property address within the Association.
The existing version of Civil Code Section 4041 potentially inconveniences non-resident Members because they must annually notify the Association of their current mailing address.  If they fail to do so, Management is then legally obligated to change the Members' mailing address back to the Members' Association address.
AB 1412 removes those administrative burdens by stating that the default mailing address shall be the last address provided in writing by the Member to the Association, if any.  Under that circumstance, the Association no longer needs to annually update its Member address records if the Members forget to supply their existing mailing address to the Association.
Civil Code Section 5800 provides liability protections to volunteer Directors and Officers if certain conditions are satisfied (i.e. the act/omission was performed in good faith and within the Director/Officer's Association duties, etc.).  Current law provides that such protections are only available to Directors/Officers in common interest developments that are exclusively residential.  The protections previously offered by Section 5800 were unavailable to volunteer Directors/Officers in mixed use settings, such as common interest developments with residential and commercial units.
In view of the growing number of common interests developments throughout the state, the California legislature recognized that Section 5800 did not provide liability protection to Directors/Officers in mixed use common interest developments.
As such, AB 1412 seeks to expand the breadth of Civil Code Section 5800 because it now generally applies to volunteer Directors/Officers in mixed use settings.  Such protection is limited to those Directors/Officers who are tenants of a residential separate interest or who own no more than two (2) residential separate interests.
AB 1412 will save time and money because the Association is no longer burdened with the duty to update Member address information if a Member fails to provide Management with his or her mailing address. 

Mixed use common interest developments may experience increased Board participation by volunteer Directors/Officers because liability protections are now available under Civil Code Section 5800.

AB 1412 does not address whether volunteer commercial unit owners or Members who own three (3) or more residential units are immune from liability under the same liability protections.  A review of the legislative history for AB 1412, coupled with general principles of statutory construction, suggests that those individuals may be excluded in that regard.
-Blog post authored by TLG Attorney, Kumar S. Raja, Esq.