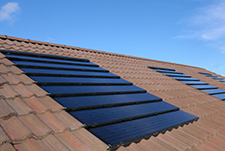 The Governor has signed AB 634 into law changing HOA control over solar energy system ("Solar") installations. HOAs may no longer adopt policies and guidelines that prohibit Solar installations on common area roofs protecting HOA property and homes from damage and members are stripped of the right to protect common area property by membership vote. HOA's must conform to a statewide, one-size-fits-all Solar policy summarized here.
Civil Code § 714.1 now provides that Associations are prevented from . . .
Establishing a solar energy system policy that prohibits condominium owners from installing solar panels on the common area roofs of condominium buildings or the owner's adjacent garage/carport (exclusive use common area);
Requiring membership approval for an owner's encroachment for Solar equipment on the common area.
New Civil Code § 4746 declares HOAs reviewing requests for Solar installations on common area roofs of multifamily dwellings . . .
MUST require:
Applicants to notify each owner in the building of the proposed solar installation, AND
Owners/successive owners to maintain homeowner liability coverage, providing the HOA with proof of insurance within 14 days of approval and annually thereafter;
MAY impose reasonable provisions that:
Require owners to provide a survey of "usable solar roof area" prepared by a licensed contractor/knowledgeable salesperson;
Require survey to include equitable allocation of usable solar roof area for all owners sharing the roof/garage/carport;
Require owners/successive owners to be responsible for:

Costs for damage to any common area resulting from installation/maintenance/repair/removal/replacement of Solar installation;
Costs for maintenance/repair/replacement of Solar installation until its removal;
Restoration of all common area and separate interests after removal;
Disclosing the Solar installation to prospective buyers and all related responsibilities
Civil Code § 4600 now includes Solar installations as an exception to the rule requiring approval of 67% of members before the HOA can grant exclusive use of any portion of the common area to a member.
| | |
| --- | --- |
| | In light of AB 634, HOAs should have their legal counsel review their current architectural guidelines with respect to the installation of solar energy systems. |
-Blog post authored by TLG Attorney, Terri A. Morris, Esq.