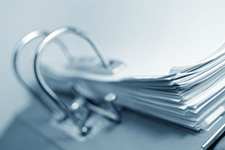 *Asked & Answered

Asked – Our documents were created in 1981 and have not been updated since that time.  I imagine that we are out of legal compliance with some of the items listed within both documents.  The HOA membership does not want to pay to have them rewritten and brought up to the codes and I am not sure what the implications are if we do nothing.
Answered – This a common question asked by many of our clients, especially those with governing documents that look like they were typed on a typewriter and digitally stored on microfiche.  However, it is important to note at the outset that just because your documents are old, does not mean that it is necessary to amend/restate them.  Nevertheless, there are several reasons why an association may want to update its documents.
The first, and most obvious, reason why an association may want to update its documents is to address particular issues affecting the community. While an association's operating rules can easily be amended to tackle many of these issues, not all can be addressed through adopting an operating rule.  Thus, certain situations may require a CC&R or Bylaw amendment.
The second common reason why an association may want to update its CC&Rs is to remove developer-specific provisions. When an association is formed, the developer's attorney prepares the governing documents, including the CC&Rs. And while the California Bureau of Real Estate exercises some oversight, many of the provisions are drafted to benefit the Developer and not necessarily the individual homeowners. Accordingly, it may be worthwhile to remove these provisions and reallocate the rights and responsibilities to the Association and its members.
Other reasons why an association may want to update its documents is to reduce quorum and membership approval requirements, and to address changes in the law. For example, a recent change to the Civil Code further defined the maintenance and repair responsibilities of the association and owners concerning Exclusive Use Common Area ("EUCA") components. For condominium associations that have traditionally held owners responsible for EUCA repairs, changes in the law may require them to change that position if the provisions in their CC&Rs fail to address the issue.
| | |
| --- | --- |
| | Board members should be aware that amending an association's governing documents can be an expensive endeavor. The expense is often exacerbated by the difficulty experienced in obtaining membership approval, either because of the unpopularity of the proposed amendments, or membership apathy. The foregoing is meant to underscore the importance of discussing potential updates with the association's legal counsel to determine if they are necessary and/or advisable. |
-Blog post authored by TLG Attorney, Matthew T. Plaxton, Esq.