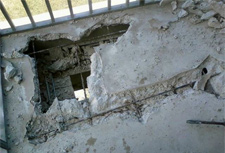 *New Legislation
A common legal issue affecting Homeowners Associations ("HOAs") deals with determining the extent of the HOA's maintenance and repair responsibilities versus those of its homeowners. Most sets of HOA CC&Rs address the maintenance and repair responsibilities for HOA common areas, the individual units/lots ("separate interests") owned by the homeowners, and any common areas reserved for a particular homeowner's exclusive use ("exclusive use common areas"). In the event that the CC&Rs are inadequate or ambiguous in this respect, Civil Code Section 4775(a) sets forth the following default structure:
Unless otherwise provided in the CC&Rs:
(1) the HOA is responsible for "repairing, replacing, or maintaining the common area, other than exclusive use common area"; and
(2) the homeowner is responsible for "maintaining [the homeowner's] separate interest and any exclusive use common area appurtenant to the separate interest."
However, there is an ambiguity within this language with regard to exclusive use common area. While "maintaining" exclusive use common area is the homeowner's responsibility, Section 4775 fails to state who exactly is responsible for "repairing" or "replacing" the exclusive use common area. This ambiguity is often problematic for condominium developments that may have numerous exclusive use common areas, such as exterior windows, reserved parking spaces, patios, balconies, etc.
Industry practice has held that the homeowner is only responsible for the basic upkeep/maintenance of the exclusive use common area's usable surfaces, while the HOA would be responsible for any major or structural repairs to the exclusive use common area. We previously blogged about this issue in response to a question on balcony repairs within a condominium development.
Fortunately, the passage of AB 968 (Gordon) will serve to codify industry practice. Effective January 1, 2017, Section 4775 will be amended to read, in part, that:
"Unless otherwise provided in the [CC&Rs] of a common interest development, the owner of each separate interest is responsible for maintaining the exclusive use common area appurtenant to that separate interest and the association is responsible for repairing and replacing the exclusive use common area."
| | |
| --- | --- |
| | HOA Boards and management professionals must still be aware of the fact that Section 4775's default structure does not supersede any conflicting provisions in the CC&Rs. Moreover, even when an exclusive use common area is to be repaired or replaced by the HOA, there may be instances where a homeowner should be held responsible for the repair or replacement costs. For example, if damage to common area or exclusive use common area is sustained as a result of the acts of a homeowner, his guests or tenants, most CC&Rs contain provisions allowing (and even requiring) the HOA to levy what is commonly known as a "reimbursement" special assessment against the homeowner to recover the HOA's repair costs. The authority for a HOA to take such action is also supported by Civil Code Section 5725(a). |