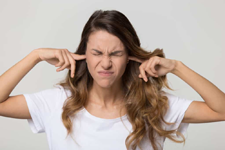 Neighbor-to-neighbor disputes are on the rise. These types of homeowner conflicts are typically characterized as governing document violation complaints that are personality conflicts between neighboring homeowners rather than legitimate concerns that impact the Association and its membership more broadly. Refereeing these squabbles can quickly become burdensome and costly for an Association and its volunteer Board where the complaining homeowner is attempting to use the Association's enforcement authority as a weapon against their neighbor. Accordingly, Associations plagued with complaints over these types of homeowner tiffs should consider setting clear limits to their involvement in such matters.
Management companies and Boards often receive homeowner complaints for alleged violations that are not easily discernable through a visual inspection of the community. A common neighbor-to-neighbor dispute is a noise complaint like a barking dog or an upstairs disturbance where no other neighbors have complained of the noise and where there are no other witnesses to the alleged ruckus. These complaints are often repetitive, adding to their burdensome nature. Initially, the Board has a duty to investigate the alleged violation, which often falls under a general nuisance provision in the CC&Rs. However, if after investigation, the Board does not find demonstrable or credible evidence that a nuisance or other governing document violation exists, such as where the only evidence is one neighbor's word against another's, the Board is well within its authority to deem the matter a neighbor-to-neighbor dispute and to exercise its discretion to decline further action. Failing to exercise restraint in intervening in these disputes could result in problems for the Association by increasing its operational burdens, and by having the balance of its membership subsidize (via their assessments) the resolution of isolated disputes between feuding neighbors that have no bearing on the Association or on a significant portion of its membership.
Declining to intervene in a neighbor-to-neighbor dispute does not leave homeowners without recourse. Each homeowner may enforce the governing documents in their individual capacity against other homeowners (Civ. Code 5975(a)). Depending on the situation, they may also contact local law enforcement, animal control, or request appropriate relief in the civil court. While the complaining homeowner may object to the Association's use of its discretionary power to decline intervening, "anyone who buys a unit in a common interest development with knowledge of its owners association's discretionary power accepts the risk that the power may be used in a way that benefits the commonality but harms the individual." Nahrstedt v. Lakeside Village Condominium Association, Inc. (1994) 8 Cal.4th 361, 374.
Due to uncertainties in determining what constitutes a neighbor-to-neighbor dispute and when to (and when not to) intervene, Boards are encouraged to contact their legal counsel to discuss adopting a Neighbor-to-Neighbor Dispute Policy. Such a policy may be drafted in a manner to prevent the Association's involvement in a Neighbor-to-Neighbor Dispute until such time as the complaining homeowner demonstrates their willingness to expend their own resources in trying to work out a resolution directly with their neighbor through requiring participation in Alternative Dispute Resolution ("ADR") before the Board will consider involvement.
| | |
| --- | --- |
| | Boards are cautioned that legitimate complaints by residents of harassment on the basis of their membership in a protected class are not neighbor-to-neighbor disputes and must be investigated and addressed. See Code of Fed. Reg. §100.7(a)(1)(iii). California HOA's have been deemed housing providers under the law for purposes of requiring their compliance with this statute. Boards are encouraged to discuss adopting an Anti-Harassment Policy with their legal counsel to address these types of complaints. |
-Blog post authored by TLG Attorney, Carrie N. Heieck, Esq.