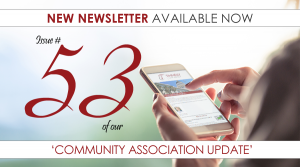 In case you missed it, Issue #53 of our 'Community Association Update' newsletter is available now!
Topics covered in this issue include:
AB 502 – Elections by Acclamation
AB 611 – Safe at Home Program
AB 1101 – Financial Protections; Insurance
AB 1584 – Rental Restriction Amendments
SB 9 – Urban Lot Splits; Two-Unit Projects
SB 391 – Meetings During Government Emergency
SB 392 – Document Delivery; Member Contact Info
SB 432 – Elections
Short-term Rental Restriction is a 'Prohibition' Under Civil Code Section 4740
HOA Has No Duty of Care for Offsite Injuries
Attorney's Fees Award in Dismissed Case
A link to the newsletter is here.
Need to be added to our mailing list? Click here to sign up. Links to previous editions of our newsletter can be found here.