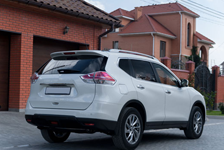 *Asked and Answered
Asked – Can Homeowners Associations Restrict Parking on Public Streets?
Answered – Possibly.  The restrictions set forth in the CC&Rs are known as equitable servitudes that "run with the land."  This means that when an owner takes title to the property, he is automatically bound by the restrictions in the CC&Rs, which are recorded against his property. Those restrictions continue to burden and benefit every successive owner, who later takes title to the property.
The CC&Rs contain restrictions pertaining to the maintenance of the encumbered land, but they also contain restrictions that regulate how members can use the land. When dealing with parking restrictions that attempt to regulate the aesthetics of the community, a reasonable argument could be made that the restrictions apply to all member conduct, regardless of whether that conduct occurs on private or public streets within the development.
California courts have not yet published caselaw to address this issue.  There is, however, an unpublished case from 1978, Lake Forest Community Association v. Noble (Orange County Superior Court No. 197563), in which the California Court of Appeal found that private parties can regulate parking on public streets in order to protect the association's property values.  In this case, the homeowner was parking a truck camper on the public street in front of his property in violation of the CC&Rs.  The Court found that the homeowner was contractually obligated, via the CC&Rs, to refrain from parking his truck camper anywhere within the community, including the public streets.
Since this case was not published, it is not controlling law.  This means that another California judge might rule differently.  Although, homeowners associations have reasonable grounds to assert that the parking restrictions in their CC&Rs apply to member conduct on both public and private streets within the community in order to preserve the property values.
| | |
| --- | --- |
| | CC&Rs restrictions dealing with parking vary greatly from association to association; therefore, the Board of Directors should first consult with an attorney to determine whether they will be able to successfully enforce parking restrictions on public streets within the development. |
-Blog post authored by TLG Attorney, Sarah A. Kyriakedes, Esq.