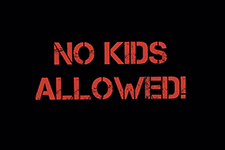 *Asked & Answered
Asked – Our Association is seeking legal guidance regarding children playing in the common areas and driveways. Several homeowners have complained about the number of children playing without supervision.  Drivers report their concern for the children's safety as there have been several reports of children almost hurt. The Board would like to know if they have the authority to restrict children from playing in the common areas and/or driveways? 
Answered – The short answer is that the Association would be exposing itself to a risk of liability under federal and state anti-discrimination laws by adopting a rule or policy that outright prohibited children from playing in the common areas; including the streets and driveways. This risk would extend to other rules that specifically apply to children only, as opposed to all members/residents of the community.    
Generally, an association should proceed with caution when attempting to create and/or enforce rules that specifically apply to children. Federal and state law provides that it is unlawful to limit the use of privileges, services, or facilities associated with a dwelling because of familial status (the law also recognizes other protected classes including those based on race, color, national origin, religion, sex, and disability). Familial status is generally defined as having one or more individuals under 18 years of age who reside with a parent or with another person with care and legal custody of that individual. The effect of association rules based on familial status is that families with children, and those children, are treated differently and less favorably than households comprised solely of adults.
Federal courts have found that an association engages in actionable discrimination when rules specifically target children without sufficient justification. For example, rules that restrict only children from the benefits and privileges of common areas or amenities (such as pools, parkways, streets, etc.) have been struck down as impermissible restrictions against a protected class; namely familial status.
An association pool rule that restricts children under the age of 16 from using the pool without adult supervision would be an example of an impermissible rule. An association may argue that such a rule is intended to protect children. However, it would be easy to demonstrate that many children that fall under the scope of the rule are far more proficient swimmers than many adults (e.g. junior lifeguards). However, a rule that prohibits children under 5 from using the common area spa without adult supervision would likely fare better if a legal challenge was brought because there is a clear and identifiable safety risk with children under 5, regardless of swimming proficiency. Specific adult-only swim hours would be another example of an impermissible rule.
To avoid the risk of a discrimination claim, associations should strive to craft and enforce rules that apply equally to all members and residents within a community. Facially neutral rules of general applicability are far more likely to withstand judicial scrutiny. Alternatively, if an association has a legitimate and compelling justification for a rule that only applies to children (or other protected class), the rule must be the least restrictive means to accomplish the identified goal. This is a high burden to meet, so counsel should be consulted to avoid unnecessary and costly issues down the road.
| | |
| --- | --- |
| | Associations should be aware that creating and/or enforcing rules that apply only to children (and other protected classes such as race, color, national origin, religion, sex, or disability) exposes an association to federal and state discrimination claims. Associations seeking to address legitimate concerns or issues, such as children's safety, should work with counsel to create enforceable rules that steer clear of potential discrimination against protected classes. |
-Blog post authored by TLG Attorney, Tim D. Klubnikin, Esq.