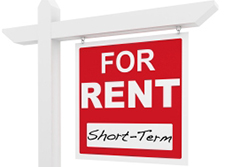 *Unpublished Case
Recently, many residential common interest developments have experienced an influx in the number of short-term rentals within their community. This problem is exacerbated by the increased popularity of websites such as Airbnb and HomeAway. Although profitable, short-term rentals have a significant negative impact on community associations, such as increased damage to common area and violations of the Association's governing documents. To address these concerns, many associations are amending their CC&Rs to include restrictions imposing a minimum lease period (e.g., thirty days). In a recent unpublished opinion, the California Court of Appeal upheld such a restriction as reasonable.
In Ocean Windows Owners Association v. Spataro, the Court affirmed the decision of the trial court granting the Association's petition to reduce the requisite approval necessary to amend their CC&Rs pursuant to Civil Code section 4275.  The proposed amended CC&Rs included, among other things, a provision imposing a minimum lease term of "thirty (30) consecutive days in any one (1) calendar year…." A homeowner filed an objection to the petition stating that the record was void of any facts sufficient to support a conclusion that the amendments "were necessary for the good of the community." The Court of Appeal rejected this argument for two reasons.
At the outset, the Court noted that the homeowner had misstated the standard under Civil Code section 4275. Specifically, Civil Code section 4275(c)(5) requires that the "amendment is reasonable." Reasonableness has been defined as:
Not arbitrary or capricious, rationally related to the protection, preservation and proper operation of the property and the purposes of the Association as set forth in its governing instruments, and is fair and non-discriminatory.
(Fourth La Costa Condominium Owners Assn. v. Seith (2008) 159 Cal. App. 4th 563, 577; see Nahrstedt v. Lakeside Village Condominium Assn. (1994) 8 Cal.4th 361, 382 (citations omitted).)
Using the appropriate standard, the Court concluded that the rental restriction was reasonable. The Court's decision was predicated, in large part, on the declarations of the Association's community manager and its general counsel. Both averred that short-term rentals had resulted in damage to the common area, increased costs and violations of the governing documents, and the inability or difficulty with obtaining financing due to the association's appearance as a "condotel." As such, the Court concluded that there was substantial evidence to support the conclusion that the rental restriction contained in the amended CC&Rs was reasonable (i.e., rationally related to the protection, preservation and operation of the community as a whole).
| | |
| --- | --- |
| | Although unpublished, this case underscores the courts' awareness of problems affecting communities with short-term rentals, and their willingness to assist associations in addressing the issue.  HOA Boards that are dealing with these types of issues should consult with their HOA's legal counsel for guidance and recommendations. |
-Blog post authored by TLG Attorney, Matthew T. Plaxton, Esq.