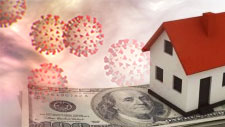 *Asked & Answered
Asked – Our common area recreational facilities have been shut-down as a result of the pandemic. With this, and with the economic impact of COVID-19, should our HOA be excusing homeowners from having to pay assessments? What about reducing our assessments or changing our policy to not charge any late fees or interest on delinquent homeowners?
Answered – It is important to recognize that an HOA is a nonprofit corporation with a fixed budget. The amount of assessments it levies is based upon the budgeted gross expenses the HOA will incur to satisfy its contractual obligations. Those obligations include, among others, payment of insurance premiums, maintenance expenses, management expenses, etc. The HOA must continue to fulfill these obligations despite the pandemic.
When a homeowner takes title to a home within the HOA's development, the homeowner automatically assumes the mandatory responsibility to pay assessments levied by the HOA. This remains the responsibility of the homeowner regardless of the degree to which the homeowner utilizes HOA's common area facilities. Whether as a result of a pandemic, remodeling project or other circumstance, there may be situations where the common area facilities are not available for use by a homeowner. These situations do not relieve the homeowner of his or her responsibility to pay assessments. This is why the often-used term of "dues" is not accurate in the context of homeowners associations. "Dues" refer to ongoing payments made in connection with a voluntary membership—such as membership dues to a health club or social club. "Assessments," by contrast, are mandatory payments that must be made for so long as the homeowner retains ownership of a property within the HOA.
We understand the impulse to assist those who have been financially injured as a result of the pandemic. However, an HOA is not the type of entity to render such financial assistance. It is not a for-profit lender, financial institution or government agency, nor does it receive government subsidies or guarantees to serve as a source of credit. If an HOA were to forbear from collecting assessments during this time, or to relax the penalties associated with assessment delinquencies, it will create disincentives for homeowners to pay assessments in a timely fashion. This will inevitably frustrate the HOA's ability to satisfy its obligations to the financial detriment of the entire membership.
| | |
| --- | --- |
| | HOAs should continue to collect assessments and to utilize their assessment collection policies to address assessment delinquencies. Homeowners who fail to pay assessments in a timely fashion should remain subject to late charges and interest, in addition to the other collection remedies the HOA has under its governing documents and California law (e.g., the recording of assessment liens). Situations where accommodations may be made for a delinquent homeowner should only be evaluated by the Board on a case-by-case basis after consideration of the facts and circumstances underlying the delinquent homeowner's assessment debt. However, such accommodations, if granted, should be structured through a formal payment plan that ensures the HOA—and by extension, its entire membership—will not subsidize any amount of the assessment debt or the collection fees and costs incurred by the HOA in connection therewith.  |