*Asked & Answered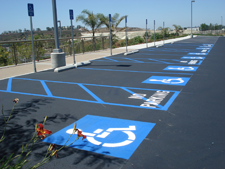 Asked – My HOA requires a parking decal to park in the community. Is my HOA allowed to enforce its parking rules on vehicles with handicap parking placards that are parked within designated parking areas, but are without the HOA required parking decal?
Answered – Yes. Typically, homeowners association ("HOA") governing documents (e.g., "CC&Rs," "Rules & Regulations") contain provisions governing how vehicles may be parked in the common area streets or parking spaces. In the event that a parking violation occurs, the HOA has the authority to enforce disciplinary measures against the violating individuals in accordance with the applicable enforcement procedures set forth in the HOA's governing documents. Although California Vehicle Code §22511.5 permits individuals with appropriate handicap placards to park in handicap spaces, those individuals must still comply with all other HOA parking rules. Individuals generally may not, therefore, circumvent the requirements of an HOA's parking rules through the use of handicap placards or plates.
| | |
| --- | --- |
| | Upon receiving a proper request, a HOA may be required to make "reasonable accommodations" for disabled individuals by designating additional parking spaces as handicap parking spaces. If your HOA has received such a request, the issue should be directed to your HOA's legal counsel for guidance. |
To submit questions to the HOA attorneys at Tinnelly Law Group, click here.