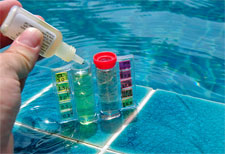 The requirements for operating and maintaining "public pools" have been subject to various regulatory changes in recent years. Those changes have impacted pools within private homeowners associations (HOAs), as the California Legislature and Department of Health have defined the term "public pools" to include pools located within private HOAs and residential developments. (Health & Safety Code §§ 116049.1(a), 116064.2(a)(4)(B); 22 CCR § 65503(a)(9).) The more notable changes include those which mandate (1) new parameters for water characteristics, (2) strict monitoring of pool facilities and requirements for written records, (3) enforcement of specific safety and first aid equipment, (4) requirements that newly constructed public pool enclosures have at least one keyless exit and self closing latches, and (5) the imposition of health restrictions for employees or pool users. Some of these changes are discussed below.
Daily Testing
The most significant change is that which requires HOAs with twenty-five (25) or more separate interests to test pool and spa water chemical composition and temperature on a daily basis, and to keep a daily log of the testing. (22 CCR § 65523(a).) Daily testing may be performed "using a properly calibrated automatic chemical monitoring and control system" if allowed by local enforcing authorities. (22 CCR § 65523(a).) For HOAs with fewer than 25 separate interests, testing must be performed and documented "at least two times per week and at intervals no greater than four days apart." (Health & Safety Code § 116048(a).)
Safety Equipment
Other notable changes deal with the installation/maintenance of safety and first aid equipment. For example, that equipment must include a 12' minimum length rescue pole and a 17" minimum (exterior diameter) life ring with an attached throw rope having a minimum of 3/16" diameter. (22 CCR § 65540(a).)
Health Restrictions
Previous regulations prohibited persons with diarrhea from using the pool. Now, pool access must be denied to any person, including pool monitors, that have symptoms "such as a cough, cold sore, or nasal or ear discharge or when wearing bandages." (22 CCR § 65541(b).)
Pool Enclosures; Gates & Doors
Finally, there are specific requirements in Section 3119B of the California Building Code for at least one gate/door into the pool enclosure to allow for egress, without a key, for emergency purposes. If all gates/doors allow for keyless exit, no special signage is necessary, otherwise the keyless exit(s) must have signage stating "EMERGENCY EXIT" in at least 4" high lettering.
| | |
| --- | --- |
| | The requirements and technicalities governing pool use and maintenance are numerous and complex. Now, more than ever, HOAs should ensure that their pool maintenance vendors are aware of these requirements and understand the need for strict compliance. |