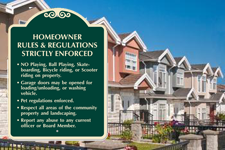 *Asked & Answered
Asked – Are there recognized models of well-written rules and regulations for homeowners associations?
Answered – No, there are not, and the reason is because homeowners association ("HOA") CC&Rs typically leave the drafting and amending of rules and regulations to the HOA's Board of Directors. The types of rules and regulations (defined as "operating rules" under the Civil Code) that a HOA may adopt will depend on the language contained in the HOA's governing documents as well as the unique characteristics of the common interest development. For example, the CC&Rs for condominium developments usually contain provisions explicitly addressing the Board's ability (and in many cases, the Board's obligation) to adopt a set of parking rules that regulate the HOA's finite number of common area parking spaces. By contrast, CC&Rs for single family home projects may broadly state the Board's ability to adopt rules governing the use of the HOA's streets.
Here are the common issues that HOA Boards should address in drafting a good set of rules and regulations: common area rules, parking restrictions, noise and nuisance guidelines, trash can rules, pet restrictions, tenant rules, sign restrictions, pool and clubhouse hours, and the association's disciplinary policy. Many of our clients also choose to include within their rules and regulations a restatement of some of the important restrictions contained in their HOA's CC&Rs. This provides a valuable "quick reference guide" for residents who may not take the time to read through the entire set of the HOA's CC&Rs.
The Board may also include a copy of the following policies that are provided to members in the Annual Policy Statement pursuant to Civil Code § 5310 as part of the "quick reference guide:" Architectural Guidelines and Application Procedures, Neighbor-to-Neighbor Dispute Policy, Alternative Dispute Resolution Procedures, Election Policy, and Assessment Collection Policy.
| | |
| --- | --- |
| | Rules and regulations are a valuable tool for resolving certain issues that are not explicitly addressed in a HOA's CC&Rs. However, a Board must be aware of the limitations placed upon its rule-making authority under its HOA's governing documents as well as the Civil Code. Therefore, where a Board's authority to adopt or amend any particular rule or regulation is unclear, the Board should consult with the HOA's legal counsel. |
Blog post authored by Tinnelly Law Group attorney, Terri Morris.
To submit questions to the HOA attorneys at Tinnelly Law Group, click here.