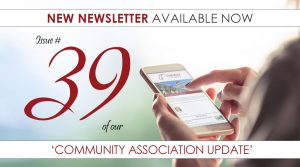 In case you missed it, Issue # 39 of our 'Community Association Update' newsletter is available now!
Topics covered in this issue include:
Workplace harassment in a HOA environment
Voter apathy is not a required showing in a petition to reduce CC&R amendment approval requirements
Architectural variances binding on future owners
Courts will defer to good faith decisions of HOA Boards
Recent ruling limits anti-SLAPP protection for HOA Board actions
A link to the newsletter is here.
Need to be added to our mailing list? Click here to sign up. Links to previous editions of our newsletter can be found here.